Xavier Cha
30 Jun - 09 Oct 2011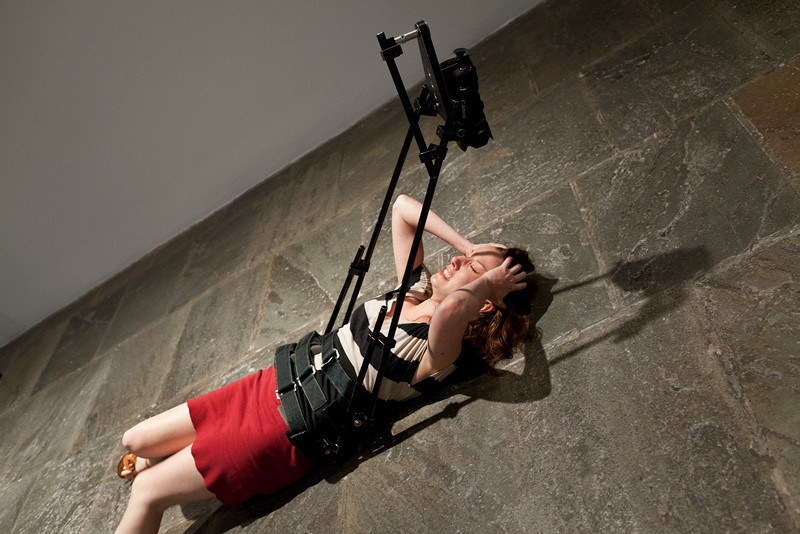 © Xavier Cha
Body Drama, 2011
(installation view, Whitney Museum of American Art, New York). Performance with actor and body-mounted video camera; and video, color, silent; time variable, looped. Photograph by Sheldan C. Collins
XAVIER CHA
Body Drama
30 June - 9 October, 2011

New York–based artist Xavier Cha incorporates video and installation in performances that play with multiple perspectives and deferred access, reflecting our fractured contemporary experience. For her new work Body Drama, Cha transforms the gallery into a mysterious setting in which an actor performs while wearing a body-mounted camera. In between performances the resulting footage is projected on the wall, offering viewers two versions of the same experience, both of which center on disorienting psychological and physical space.

Xavier Cha was born in Los Angeles, CA, in 1980; she currently lives and works in New York, NY. Cha received her B.F.A. from the Rhode Island School of Design in 2002 and her M.F.A. from the University of California, Los Angeles in 2004. Her performance-based work has been shown in solo exhibitions at the Contemporary Art Museum, St. Louis (Two-Way Mirror, 2010) and Taxter & Spengemann Gallery, New York (The Third I, 2009, Voicedoor, 2008, and Holiday Cruise!, 2006). Group exhibitions include The Absolutely Other, 2010, The Kitchen, New York; Convention, 2009, Museum of Contemporary Art, North Miami; and In Practice, 2006, The Sculpture Center, Long Island City.

Xavier Cha: Body Drama is organized by senior curatorial assistant Diana Kamin.