Jacob Dahl Jürgensen
01 Mar - 29 Apr 2007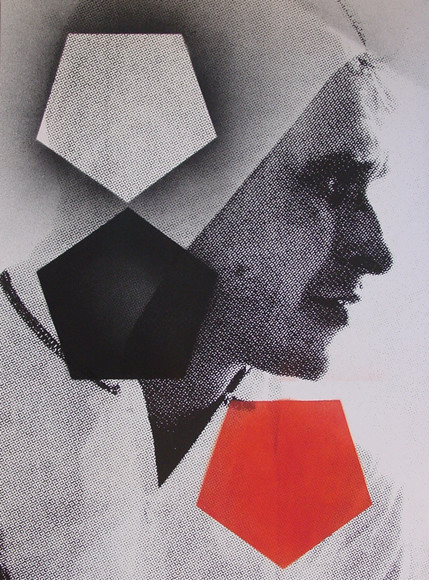 © Jacob Dahl Jürgensen
Sigil Tag Placard (Red Pentagon) 2007
M: Spraypaint on screenprint on paper
S: 84 x 59.3 cm
JACOB DAHL JÜRGENSEN
"The Folly Of The Mysticals"

Jacob Dahl Jürgensen's work is informed by a blurred recollection of the histories of Modernist art and design; the social and spiritual ideologies and aesthetics underpinning much of the creative output of the avant-garde but seen through the distorting prism of contemporary culture.
As an archaeologist trying to read an arcane civilisation through a pile of potsherds, Jürgensen picks through the flotsam of the 20th century, reconstructing and interpreting the half-recognisable fragments. Projecting ritualistic implications on familiar anecdotes of cultural movements, the work locates points of intersection in communities formed through shared belief systems, yet renders the activities of these communities obscure.
"Within Jürgensen's theatre of ideas, scientific principles are read in the runes of alchemical experimentation and symbols that refer to mystic cults are mixed with others that mirror the signs of contemporary, urban society. Quoted and choreographed within a discourse of display, Jürgensen borrows framing devices from the stage and the museum to create a self-reflexive platform for examining past and present attempts to live beyond the hegemonic paradigm" - Michelle Cotton
'The Folly of the Mysticals' is a theatrical installation of individual works, staged as ethnographic artefacts. The collection of costumes, sculptures and posters combine oblique references to constructivism, esoterica and contemporary youth culture to conjure up a narrative that is both paradoxical and plausible. The Mysticals, referred to in the show's title, are the absent, mythological protagonists of this narrative, an amalgam of the revolutionary, the mystic and the avant-gardist.
'Folly (The Mysticals' Sphere)' is a large geometric sculpture constructed with copper pipes and draped with a string of dimmed light bulbs. Simultaneously festive and dark, it is reminiscent of both Buckminster-Fuller's geodesic spheres and a relic of an unknown public ritual.
Sigil Tag Placards (Green Triangle/Blue Circle/Red Pentagon/Orange Hexagon), are a series of four unique posters. They are spraypainted stencils on screen print on paper. A 'sigil' is a symbol used for magical purposes, and as the posters' titles suggest, the spraypainted stencils become occult graffiti, a 'tag' being a simple form of the latter. The screenprinted images are taken from a variety of sources including youth magazines and history books, and evoke notions of political activism, circus and bizarre rituals. However, the images are lifted out of their original context, obscuring their origins and thus becoming more ambiguous.
'Mirror Masque' is a mask on a stick. Painted with black gloss paint and adorned with glass beads and triangular pieces of mirror Perspex the plaster mask is a relic from a past future.
'Dreamconstructions' are two mobiles suspended from the ceiling. Referring to Alexander Rodchenko's Hanging Spatial Constructions, Native American dream catchers and occult symbolism, they consist of one large and three smaller hexagons and pentagons, respectively, constructed with painted wood, string and glass beads.
'Glyph' is an A4 collage that also serves as the invite for the exhibition. It is intended to form a prism of the ideas in the show, the pentagram's facets being culled from images of dancers, graffiti, a spiritualist medium, and the circus.
'Dancers, Red Yellow Blue' are three mannequins dressed in a mix of hoodie tops, Adidas track pants and ceremonial robes. Wearing esoteric jewellery, the costumes are staged as a museological display. While the mannequins,
constructed out of white-painted wood, have been inspired by a drawing of theatre costumes by El Lissitzky, their postures have been inspired by a photograph of a dance by Oskar Schlemmer.
Jacob Dahl Jürgensen has exhibited internationally, most recently at Galerie Kamm, Berlin, Foxy Production, New York, and at Schnittraum, Cologne. He will participate in 'Curacione Geomtricaa', a group show, at The Reliance in May and a group show at Galerie Rüdiger Schöttle, Munich, in July. He is currently exhibiting a collaborative work in Simon Dybbroe Møller's show 'On Ill Winds and Loss of Sanity' at westlondonprojects.