Landscape: the virtual, the actual, the possible?
24 Oct 2014 - 25 Jan 2015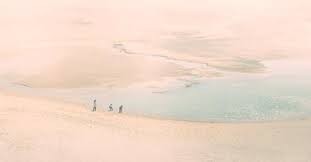 Robert Zhao Renhui
"Changi, Singapore" (detail) from the series "As We Walked on Water", 2010–12
© Courtesy Kadist Art Foundation and the artist
LANDSCAPE: THE VIRTUAL, THE ACTUAL, THE POSSIBLE?
Lucas Blalock, Charlotte Moth, Elina Brotherus, Simon Pyle, Marcelo Cidade, Zhao Renhui, Tacita Dean, Hiraki Sawa, Charles Gaines, Maaike Schoorel, Vidya Gastaldon, Liang Shuo, Zheng Guogu, Zhou Tao, Tsang Kin-Wah, Lois Weinberger, Paul Kos, Chen Xiaoyun, Anthony McCall, Toby Ziegler, Alicia McCarthy
24 October 2014 - 25 January 2015

Curated by: Betti-Sue Hertz, Ruijun Shen, Xiaoyu Weng

Set against the background of the Anthropocene discourse and its extended cultural and social debates, Landscape: the virtual, the actual, the possible? focuses on landscape, nature, and gardens by posing the question: What is the mirror effect between landscape and technology, and how does each inform how we understand and experience ourselves and others?

Landscape: the virtual, the actual, the possible? considers how the intersection of nature and technology shapes our current understanding and experience of landscape and gardens. By examining two very distinct geographic and cultural environments — the utopian frontier of California, home to both Silicon Valley and a vast variety of natural wildernesses, and the Pearl River Delta region in China, primary producer of the world's electronic products which faces massive urbanization and land struggles — the exhibition questions whether human activities have altered the geological ecology so extensively that a new form of nature is being created, both physically and metaphorically. Inclusive of subjects such as nature, landscape, the urban garden, virtual reality, digital technology systems, and their junctures, the exhibition features work by Lucas Blalock, Elina Brotherus, Marcelo Cidade, Tacita Dean, Charles Gaines, Vidya Gastaldon, Paul Kos, Liang Shuo, Anthony McCall, Alicia McCarthy, Charlotte Moth, Simon Pyle, Hiraki Sawa, Maaike Schoorel, Lois Weinberger, Zhao Renhui, Zhou Tao, and Toby Ziegler with new commissions from Chen Xiaoyun, Tsang Kin-Wah, and Zheng Guogu.

Landscape: the virtual, the actual, the possible? is curated by Betti-Sue Hertz, Yerba Buena Center for the Arts (San Francisco); Ruijun Shen, Guangdong Times Museum (Guangzhou); and Xiaoyu Weng, Kadist Art Foundation (Paris / San Francisco).