l'insoutenable légèreté de l'être
20 Jan - 19 Feb 2011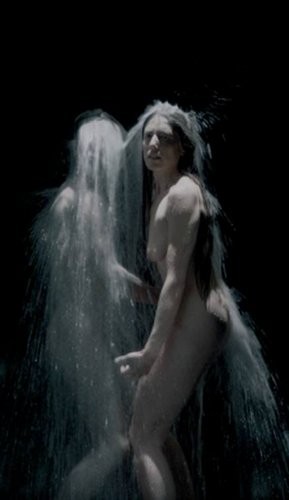 © Bill Viola
Incarnation, 2008
Color High-Definition video on plasma display
Performers: Oguri, Roxanne Steinburg
Photo: Kira Perov
L'INSOUTENABLE LÉGÈRETÉ DE L'ÊTRE
January 20 – February 19, 2011

Yvon Lambert is pleased to announce L'Insoutenable Légèreté de l'être (The Unbearable Lightness of Being), a group exhibition that spans both the New York and Paris galleries.
This show will include work by Marina Abramović, Dennis Adams, Saâdane Afif, Ghada Amer, Carlos Amorales, Robert Barry, JeanCharles Blais, Christian Boltanski, Louise Bourgeois, Stefan Brüggemann, Mircea Cantor, David Claerbout, Larry Clark, Gregory Crewdson Philip-Lorca diCorcia, Jason Dodge, Sam Durant, Hans-Peter Feldmann, Gloria Friedmann, Anna Gaskell, Douglas Gordon, Loris Gréaud, Shilpa Gupta, Karl Haendel, Julieta Hanono, Mona Hatoum, Joseph Havel, Isabell Heimerdinger,Ferdinand Hodler, Jenny Holzer, Joan Jonas, Idris Khan, Anselm Kiefer, Barbara Kruger, Bertrand Lavier, Claude Lévêque, Teresa Margolles, Paul McCarthy, Theo Mercier, Jonathan Monk, Bruce Nauman, Hermann Nitsch, Kaz Oshiro, Bill Owens, Giulio Paolini, Elizabeth Peyton, Pablo Picasso, Jack Pierson, Yuval Pudik, Martha Rosler, Vittorio Santoro, Andres Serrano, Nick van Woert, Francesco Vezzoli, Bill Viola, Ian Wallace, Andy Warhol, Lawrence Weiner, Tom Wesselmann, and Cerith Wyn Evans.

Milan Kundera's 1984 novel L'insoutenable légèreté de l'être explores the intellectual, emotional, and artistic experiences one faces throughout life, which are all part of an individual's incessant quest for harmony and balance. Kundera believes that life is only lived once, therefore one's actions and decisions matter little, and life's passage possesses an unbearable lightness, as opposed to a "weighty" life of worry and consequence.
The artists featured in this exhibition explore different aspects of the human condition, such as love, happiness, desire, loneliness and despair. The range of human emotions manifests in these works, thus the gallery becomes an environment in which visitors should ponder their existential placement in the world. This exhibition presents one's search for meaning as frightening and bizarre, as well as contemplative and spiritually sublime.