Sotto Voce
03 May - 07 Jun 2008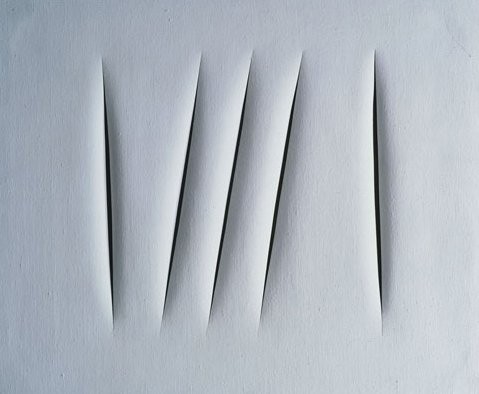 © Lucio Fontana
Concetto spaziale, attese, 1964-65
waterpaint on canvas
21 1/4 x 25 3/4 inches (54 x 65.5 cm))
SOTTO VOCE

May 3 – June 7, 2008 Gallery hours: Tuesday – Saturday, 10am – 6pm
New York, NY, March 21st, 2008 Yvon Lambert New York is pleased to announce the momentous exhibition Sotto Voce including works by:

ENRICO CASTELLANI
LUCIO FONTANA
YVES KLEIN
YAYOI KUSAMA
BRICE MARDEN
FRANÇOIS MORELLET
ROBERT MORRIS
PIERRE SOULAGES
GÜNTHER UECKER
LEE UFAN
CHRISTOPHER WOOL

Sotto Voce is an exhibition of works relating to the idea of one color as object, subject, idea and ultimately, a presence. The artists in the exhibition, coming from different groups and from varying points of view, champion art that is concrete, objective and literally present. These paintings cannot be categorized as pictorial – the works in the exhibition represent colors and ideas in their purest forms— they are worlds onto themselves.
"Through color I identify completely with space. I am really and truly liberated" - Yves Klein Yvon Lambert New York is honored that several artists who have been tackling these ideas for decades have created works specifically for Sotto Voce. The exhibition is accompanied by a fully illustrated catalogue with an essay by Danilo Eccher, Director of the Museo d'Arte Contemporaneo di Roma.