Bill Bollinger. The Retrospective
28 May - 25 Sep 2011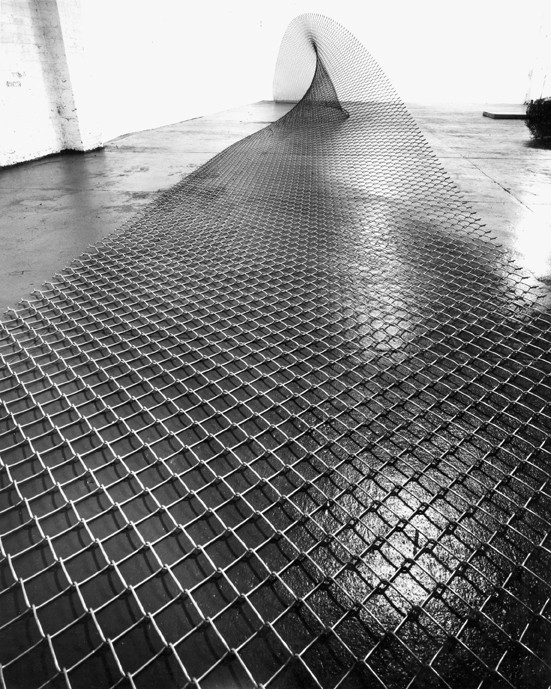 Bill Bollinger. The Retrospective
An exhibition at ZKM | Museum of Contemporary Art
Bill Bollinger
"Cyclone Fence", 1968
Exhibition view
Castelli Warehouse, New York, 1968
© Roy Lichtenstein Foundation
Photo: Shunk-Kender

Bill Bollinger. The Retrospective
An exhibition at the ZKM | Museum of Contemporary Art, 2nd floor
Towards the end of the 1960s, Bill Bollinger (1939–1988) counted among the most important sculptors of his era, being mentioned in the same breath with the likes of Bruce Nauman, Robert Smithson, Eva Hesse and Richard Serra. From the mid 1970s on, he slipped into obscurity, no longer figuring in the international art business.
The exhibition, which following the first station at the Kunstmuseum Liechtenstein is now on show at the ZKM | Museum of Contemporary Art, is the first retrospective that attempts to rediscover the complexity, radicality and intensity of the prematurely deceased artist. At the same time, this presentation sees itself as a contribution to the contemporary rehabilitation of forgotten artistic approaches, which comprises the thematic focus at the ZKM | Museum of Contemporary Art this spring and summer.
With this large-scale retrospective, the ZKM | Museum of Contemporary Art presents over 30 sculptures and around 100 works on paper to a broad public for the first time in Germany.
In an era in which the first man landed on the moon, Bollinger created sculptures that incorporated gravity, balance and the unique attributes of the most diverse materials. Fascinated by curved space, by the vertical and the horizontal, for Bollinger the cosmos and water were of central importance. The sensitive treatment with the simplest of industrially produced materials is characteristic of his artistic work.
"I only do what is necessary. There is no reason to use color, to polish, to bend or to weld if there is no need for it." (Bill Bollinger)
What emerged were ephemeral, purist and energy-charged works the radicality of which continues to astonish us. Furthermore, numerous unknown documentary materials mediate deeper insight into this astonishing body of work.
Together with the catalog, published in conjunction with the exhibition, the present retrospective is the result of several years of research. Based on resurfaced historical documents in the form of Bollinger's instructions for installations and statements by contemporaries, several of the works on show have been especially reconstructed for this exhibition.
This first comprehensive retrospective curated by Christiane Meyer-Stoll and in conceptual cooperation with Rolf Ricke, is a joint production of the Kunstmuseum Liechtenstein, the ZKM | Museum of Contemporary Art, Karlsruhe, and The Fruitmarket Gallery in Edinburgh.
Curator: Christiane Meyer-Stoll
An accompanying catalog to the exhibition has been published:
Bill Bollinger. Water is life (ed. Christiane Meyer-Stoll), Verlag der Buchhandlung Walther König, Cologne, 2011, 255 p., 179, in part full-page Ill., (22 color.), € 35.00.
For further information, please see:
http://on1.zkm.de/zkm/stories/storyReader$7417