Ingeborg Lüscher Die andere Seite (The Other Side)
30 Apr - 15 Jun 2011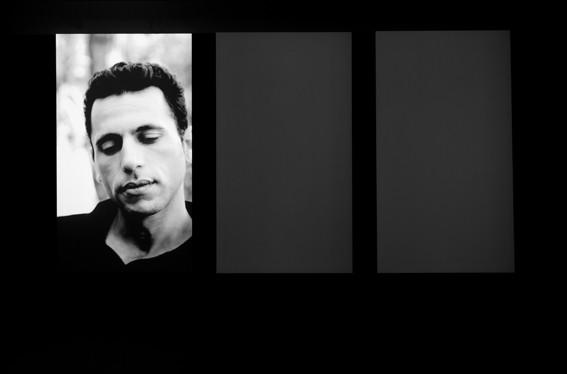 Ingeborg Lüscher "Die andere Seite", Installationsansicht im ZKM | Medienmuseum 2011 © Ingeborg Lüscher, Foto: ONUK
An installation at ZKM | Media Museum, Project Space

THINK
OF WHO YOU ARE, YOUR NAME,
YOUR HERITAGE

THINK
OF WHAT THE OTHER SIDE
HAS DONE TO YOU

THINK,
CAN YOU
FORGIVE THAT

Artist Ingeborg Lüscher directed these three challenges at people in Israel and Palestine who have lost loved ones in the ongoing conflict.
The poignant images in the resulting video installation, »Die andere Seite« show what happens in the faces of those asked: from freezing, to rebellion against one's own feelings in view of the catastrophe, through to the free, cathartic course that tears are finally able to take.

The question of forgiveness constantly appears at the center of the work. How should, how can these people continue to live under the steady pressure of accusation? Ingeborg Lüscher offers these mourners a space for their mourning. She thereby gives them the chance to step away from the randomness and anonymity of a victim count cited in the media, an opportunity to be perceived, from which perhaps forgiveness can also grow at some time.
The artist has dedicated this work to the victims.