Medium Religion
23 Nov 2008 - 19 Apr 2009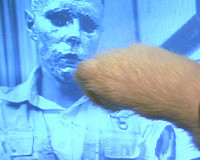 Dorcas Müller
"Wie der tote Hase dem toten Beuys den Menschen erklärt"
Video, 2004, Harvard, Boston/Massachusetts
Dank an: Günther Zeck, Thomas Knoefel
No animals were harmed for the making of this video.


An exhibition at ZKM | Museum of Contemporary Art
Opening Sat 22 November at 6 p.m.
Today's religious movements operate primarily with images capable of spreading around the world in a flash by means of mass media. Video has become the chosen media for religious propaganda as it can be produced and distributed particularly fast thanks to today's technology. The return of religions that people have been talking about recently does not necessarily mean that more people have become religious. Instead, religions have moved from the private sphere of personal belief out into the public sphere of visual communication. On the one hand, religions function as machines for the repetition and mass medial distribution of mechanically produced images. On the other hand, this repetition is based on the repeatability of the religious ritual, which is the basis for the emergence of all subsequent media technologies for reproduction.
The exhibition »Medium Religion« aims to showcase the medial side of religion based on current examples of religious propaganda and individual works by contemporary artists. Shown, among others, will be confession videos by religiously inspired terrorists, religious-propaganda television series, and documentaries about current sects and religious groups. The artistic works juxtaposing the documentaries arise for the most part from the same context as the religious movements that they thematize. They are neither affirmative nor critical with regard to the religious rituals, images, and texts of the respective cultures; but rather blasphemous. They place the religious symbolism of the respective culture in an unconventional context in order to provoke a different awareness.
In this way, possible are both a critical analysis of the respective religious iconography as well as its crossover into modern culture.
The exhibition focuses on death as religion's first and prime theme: death as the result of a political, artistic, or private martyrdom, similar to the central role it plays today in the political consciousness of secular modernism. The exhibition will show in an exemplary way how the iconography of this civil religion is ritualized and presented artistically, and how this works.
The exhibition »Medium Religion« provides a comprehensive view into the medial reproduction and meaning of religion, especially as it is manifest in the geopolitical hotspots, such as the Middle East, Asia, Russia, the United States, and South America. Many works will be shown for the first time in Germany and have been specially prepared and researched for the exhibition. A publication with scientific contributions on the theme and a documentation of the exhibition will be published in conjunction with the exhibition.
Curators: Boris Groys and Peter Weibel.
Further information:
www.zkm.de
guided tours: Sun 3 p.m.