Notation. Calculation and Form in the Arts
01 Mar - 26 Jul 2009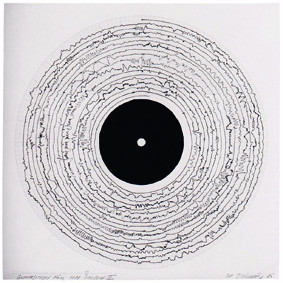 Notation_Brehmer
KP Brehmer
Komposition für Tim Wilson II, 1986
Tusche, Temperafarbe auf Diagrammpapier; 33 x 33 cm
Courtesy gelbe MUSIK / Ursula Block
© VG Bild-Kunst, Bonn 2008
Notation. Calculation and Form in the Arts
An exhibition at ZKM | Media Museum
Opening Sat, 28.02. at 7 p.m. in the ZKM_Foyer

The exhibition »Notation« by the ZKM | Centre for Art and Media, Karlsruhe and the Akademie der Künste, Berlin, is dedicated to the spectrum of diverse artistic processes existing between the conception and the work. The exhibition places works from all areas of art, from 1900 to the present in relation to one another: sign systems for literature, music, painting, choreography, architecture, photography, film and media art. Over 500 positions from 105 artists drawn from international collections, from the ZKM and from the archive of the Academy of Fine Art will be exhibited.

In the alliance between scientific calculation and artistic form, the artists of the 20th century have continued to make visible new realities. Morphic resonances, serial structures and sound waves: modernity has discovered the intellectual dimension to existence, to immaterial phenomena, and the ephemeral as a field of research in art. In the process, the relationship between concept, recording, repetition and work has been determined in a radically new way, the design processes have themselves become autonomous works of art.

A comprehensive catalogue will be published in conjunction with the exhibition including textual contributions by the curators, among others, Michael Baumgartner, Pierre Boulez, Michel Frizot, Sarah Greenough, Sharon Kanach, Friedrich Kittler, Laurent Manoni, John Rajchman, Hans-Jörg Rheinberger and Rainer Speck.

Curated by Hubertus von Amelunxen, Dieter Appelt and Peter Weibel.
In collaboration with Angela Lammert und Bernhard Serexhe.

An exhibition of the the Akademie der Künste, Berlin, and the ZKM | Center for Art and Media Karlsruhe.