RECORD > AGAIN!
18 Jul - 06 Sep 2009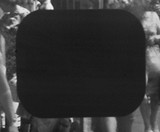 Reiner Ruthenbeck
Objekt zur teilweisen Verdeckung einer Videoszene, 1974, video still
© Reiner Ruthenbeck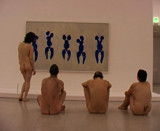 Chicks on Speed
Performance in the exhibition "Yves Klein –
Die blaue Revolution"
(MUMOK, Wien 2007)
video still
© Chicks on Speed
RECORD > AGAIN!
40jahrevideokunst.de – Part 2
An exhibition at ZKM | Media Museum
"RECORD > AGAIN! – 40jahrevideokunst.de – Part 2" is like the first project "40jahrevideokunst.de – Part 1" dedicated to the history of German video art from its beginnings in the 1960s and 1970s through to the early twenty-first century. Both projects are sponsored by the German Federal Cultural Foundation.
Researching video history today means, primarily, making audio-visual material from past decades once again visible. There is a great deal of stored material forgotten in museum depots and artist's studios that has no chance of being watched, for technical reasons, actually. The video players for the content stored on reels in one-inch, half-inch, or even quarter-inch formats, on strange square or even pentagonal cassettes have disappeared or are broken. And the tapes themselves are barely able to be played as they have begun to gradually dissolve and stick together. In order to put a stop to this decay, the Laboratory for Antiquated Video Systems was created at the ZKM Center for Art and Media in 2004. In the meantime, the lab has a large, functioning historical equipment park paired with modern digital technology, making it possible to again view more than fifty video formats from the 1960s to the 1980s, to digitize them, and thereby preserve them for posterity.
Discoveries, Rescues, and Reconstructions
"RECORD > AGAIN!" presents about fifty videos from the past forty years that exemplarily reflect the diversity of the German video scene and its development. At first, fine artists used the new medium video to document their works or allow further aspects of their works to develop, for example, Ulrich Rückriem, Klaus Rinke, Franz Erhard Walther, Reiner Ruthenbeck and Claus Böhmler. Shown, for example, will be the famous boxing match that Joseph Beuys fought at the "documenta 5" in 1972 the reconstruction of the work "Schafe" by Wolf Kahlen shown on six monitors, which was last screened in 1976. The famous work "Objekt zur teilweisen Verdeckung einer Videoszene" by Reiner Ruthenbeck from 1974 will be shown in a version three-times longer than the hitherto screened version, and the merely rudimentarily preserved tape "Wir malen mit dem Rot des Kohls" by Claus Böhmler, likewise from 1974, was completely reconstructed in an elaborate process from several fragments coming from different collections. Also presented will be works from the television gallery of Gerry Schum with Klaus Rinke and Ulrich Rückriem as well as a documentary about Anna Oppermann from 1977 or an early, two-channel work by Ursula Wevers.
From Artist Videos to Video Artists
Developing from the artists' videos were video artists, such as Ulrike Rosenbach and Klaus vom Bruch, from whom we will show a virtually unknown performance work from 1977. Two tapes by Wolfgang Stoerchle, an important figure in the Californian video scene in the early 1970s, who died in 1976, and whose work later became entirely forgotten, present an important discovery. Also shown for the first time will be the complete version of Holger Czukay's "Jahresrückblick 1982," and previously unscreened video material from the 1981 "Festival Genialer Dilletanten" in Berlin's Tempodrom as well as a contemporary work by "Chicks on Speed."
Video Activities and -Factories
Also beginning in the 1970s were utopian social projects to recover the medium of video for enlightenment, documentation, and propaganda. A number of independent groups arose from Freiburg to Hamburg, which employ video as a political and social medium. Arising from this were visions of an alternative television and an independent art channel. The early German closed-circuit work "Der Magische Spiegel," which Herbert Schuhmacher realized in 1970 with the group Telewissen supplemented with a remake done in 2008, thirty-eight years later. The activities of the Freiburger Medienwerkstatt and the contributions of alternative television productions by "Kunstkanal," "UTV – Unser Fernsehsender," and "Videoart Magazin VAMP." An installation with a Gretchen-Dutschke interview by Michaela Buescher and Gerd Conradt from 1985 is supplemented with current material. Several works, providing evidence that videos were also produced in East Germany, present an art historical sensation. For example, the exhibition will include a small film document, showing a half-inch video device with which an art performance by Michael Morgner was recorded in East Germany in 1981. The video tapes themselves, however, remain missing. Also screened will be the video action "Achtung Kamera," that Wolf Kahlen carried out together with A.R. Penck in 1980 in East Berlin, the reconstruction of a video object by Jörg Herold from 1988, and the tape "Herakles," that Lutz Dammbeck produced in East Germany in 1984. The new genre "video-essay" was only made possible by the straightforward production conditions of video technology, as shown in "Viva kleiner Mann – über Wilhelm Reich" by Digne Meller Marcovicz and "Nico-Icon" by Susanne Ofteringer. For the most part, the exhibition presents the material on contemporary equipment. The 400-page catalogue published by Hatje Cantz Verlag includes texts by Siegfried Zielinski, Ursula Wevers, Peter Weibel, Ute Vorkoeper, Wolfgang Stickel, Klaus Staeck, Rolf Sachsse, Sylvia Martin, Claus Löser, Gregor Jansen, Wulf Herzogenrath, Wilhelm Hein, Walter Grasskamp, Christiane Fricke, René Block, and Christoph Blase among others, as well as an illustrated history of video technology, discussions of current restoration practice, and an extensive, annotated bibliography. The study edition DVD, available for purchase by institutions for non-public teaching and research use, will be published in autumn 2009 by Hatje Cantz (who have already published Edition Part 1) and is supported by the Goethe-Institut e.V.
Artistic Director: Peter Weibel
Project Manager: Christoph Blase
Further information:
www.record-again.de