Christopher Williams
17 May - 15 Jun 2013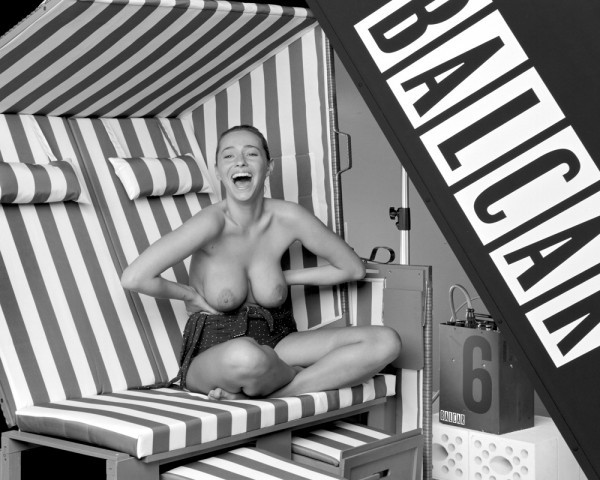 © Christopher Williams
TecTake Luxus Strandkorb grau/weiß Model no.: 400636
wood/plastic
154 cm x 116 cm x 77 cm Weight: 49 kg
Manufactured by Ningbo Jin Mao Import & Export Co., Ltd, Nigbo, Zhejiang, China for TecTake GmbH, Igersheim, Germany Model: Zimra Geurts, Playboy Netherlands Playmate of the Year 2012 Studio Rhein Verlag, Düsseldorf, February 1st, 2013 (Zimra stretching), 2013
Selenium toned silver gelatin print
Image: 18 1/4 x 22 1/4 inches (46.4 x 56.5 cm)
CHRISTOPHER WILLIAMS
For Example: Dix-Huit Leçons Sur La Société Industrielle (Revision 18)
17 May - 15 June 2013

In the 1970s, Christopher Williams (born 1956 in Los Angeles) studied at the California Institute of the Arts under the first wave of West Coast conceptual artists, including John Baldessari and Douglas Huebler, only to become one of his generation's leading conceptualists. Williams's work is a critical investigation of the medium of photography and more broadly the vicissitudes of industrial culture, in particular its structures of representation and classification. Using the process of reproduction as a point of entry, the artist manipulates the conventions of advertising, the superficiality of surface, and ultimately the history of Modernism. Deeply political, historical, and sometimes personal, the photographs are meant to evoke a subtle shift in our perception by questioning the communication mechanisms and aesthetic conventions that influence our understanding of reality.

His work has been the subject of solo exhibitions worldwide, most recently at Museum Morsbroich, Leverkusen, Germany; Museum Dhondt-Dhaenens, Deurle, Belgium (both 2011); Staatliche Kunsthalle Baden-Baden, Germany; and the Bergen Kunsthall, Norway (both 2010). Other notable solo exhibitions include the Kunsthalle Zürich (2007); Museu Serralves, Porto, Portugal (2006); Secession, Vienna; and the Kunstverein Braunschweig, Germany (both 2005).

Williams is part of the Venice Biennale, opening in June 2013, curated by Massimiliano Gioni. In 2014, the artist will be the subject of a major show opening at The Art Institute of Chicago, which will travel to The Museum of Modern Art in New York.

Major museum collections which hold works by the artist include the Carnegie Museum of Art, Pittsburgh; Hammer Museum, Los Angeles; Hirshhorn Museum and Sculpture Garden, Washington, D.C.; Ludwig Museum, Cologne; The Metropolitan Museum of Art, New York; Museum Moderner Kunst Stiftung Ludwig Wien, Vienna; Solomon R. Guggenheim Museum, New York; Whitney Museum of American Art, New York; amongst others.

He lives and works in Amsterdam, Cologne, and Los Angeles.