Konrad Klapheck
08 Nov - 22 Dec 2007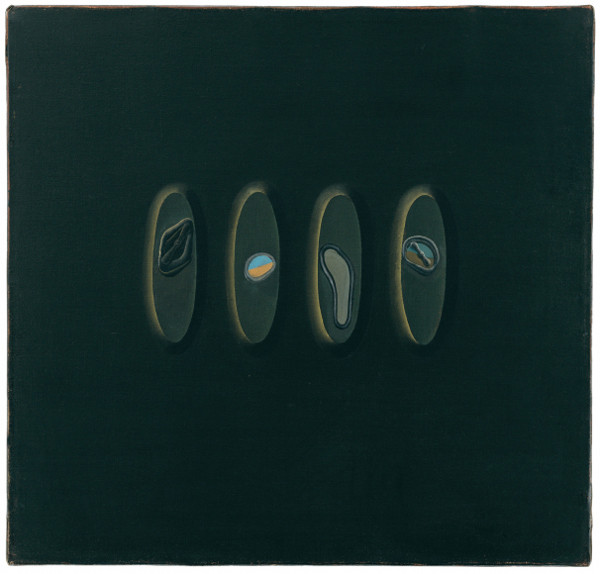 © KONRAD KLAPHECK
Meine vier kleinen Untugenden (My Four Little Vices)
1958
Oil on canvas
17 x 17 3/4 inches
43 x 45 cm
KONRAD KLAPHECK

Opening on November 8, Zwirner & Wirth will present a selection of paintings by German artist Konrad Klapheck. The exhibition will bring together roughly twenty paintings that span the years 1958-1998, providing an overview of the artist's unique style and pictorial vocabulary, while attesting to his singular contribution to post-war art.

In 1955, while he was still in art school, Klapheck acquired an obsolete typewriter model and reproduced it on canvas in a mysterious, deadpan fashion. This painting captured an everyday archetype of modern culture—a rational machine for transcribing information—in an impeccably precise style. Schreibmaschine (Typewriter), 1955, is a work that seems to fall somewhere between Surrealism and Pop Art, while nonetheless remaining unclassifiable. Klapheck had originally set out to paint, as he himself noted, "a picture that was as contrary to Tachisme as possible, which is to say to replace laziness with exactitude." Over the course of the following decades, Klapheck went on to develop an exceptionally focused artistic practice characterized by the depiction of typewriters and other technological objects that include sewing machines, telephones, faucets, and machinery.

The artist's paintings are more than mere depictions: he discovered that this style of "cold" objectivity allowed him to convey complex personal, emotional, and political themes. The objects and machines that Klapheck presents are subtly anthropomorphized and charged with psychological and social meaning that would otherwise seem incongruous. This aspect is further enhanced by the narrative, often metaphorical titles that accompany each of the artist's canvases, many of which express overt or sublimated eroticism: Die Erotische (Erotic Woman), for example, is a painting from 1965 that presents a faucet in a manner evocative of an amorous challenge, while Die Technik der Eroberung (The Technique of Conquest), dated 1964, depicts an elaborate system of locks and keys. A telephone takes on a playful, flirtatious quality in Verliebtheit (Amorousness), 1969, and mechanized pipes and valves are representative of Die Qual der Lust (The Torments of Pleasure), 1962. Other works by Klapheck are influenced by personal relationship dynamics, including Der Hausdrachen (She-Dragon), 1964, which humorously presents an intimidating figure in the form of a steam iron, and Der mütterliche Vater (Motherly Father), 1977, a typewriter that appears at once forceful and tender.

Klapheck's objects and machines convey human characteristics—playful, threatening, humorous, frustrated, cowardly, motherly, etc.—in a manner that is simultaneously familiar and strange. The artist has commented, "With the help of the machine, I was able to extract unknown worlds from within myself. The machine forced me to confess my most hidden yearnings and desires." While they explore the artist's personal experiences and obsessions, Klapheck's paintings relate to the universal human dramas of desire and conflict. Moreover, several of the artist's works take up what many found difficult to address in the post-war years, namely Germany's recent fascist past. Der Herrscher (The Emperor), 1966, for example, evokes brute power in the form of a monolithic, menacing-looking typewriter, and Die Macht des Vergessens (The Power of Oblivion), 1968, is a painting of an automobile tire that alludes to Germany's relationship to its history in the context of the so-called post-war "economic miracle."

In recent years, Klapheck's work has taken on more explicitly figurative themes, and this exhibition will feature an important transitional painting, one of the first of his figurative paintings, titled Die Küche II (The Kitchen II), 1998, which was inspired by a group of erotic photographs from the 1920s, in which an Austrian aristocrat's female staff is shown posing nude in the rooms in which they worked. This evocative canvas depicts two female nudes in a kitchen, surrounded by a number of utensils and objects, thus forming a cohesive link between the artist's "objective" and "figurative" paintings.

The exhibition at Zwirner & Wirth comprises one of the first major presentations of the artist's work in the United States since his 1969 solo exhibition at Sidney Janis Gallery, New York. Klapheck's work has been exhibited widely in Europe since the late 1950s at such venues as the Palais des Beaux Arts, Brussels, the Museum Boymans-van Beuningen, Rotterdam, and the Museum Kunst Palast, Düsseldorf. His paintings have recently been featured in major museum retrospectives, including Konrad Klapheck: The Machine and I, organized by the Musées de Strasbourg, France (2005) and Menschen und Maschinen: Bilder von Konrad Klapheck, at the Kunsthalle Recklinghausen, Germany (2006). The artist was born in 1935 and currently lives and works in Düsseldorf.

On the occasion of the exhibition, Zwirner & Wirth, in collaboration with Steidl, will publish an extensive English-language monograph on the artist which will feature an interview between Konrad Klapheck and Christopher Williams.