André Kertész
11 Jun - 11 Sep 2011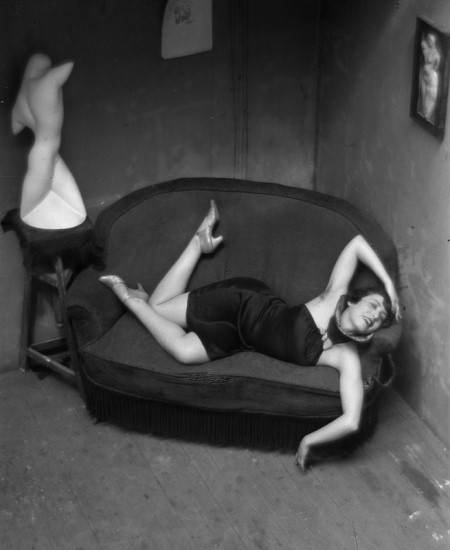 André Kertész
© Bibliothèque nationale de France / RMN
Satiric Dancer, 1926
Gelatin silver print
Printed in the 1950s
ANDRÉ KERTÉSZ
Photographs
11 June to 11 September 2011

Organizer
Berliner Festspiele. An exhibition of Jeu de Paume Paris.
In association with the Martin-Gropius-Bau, Berlin.

As the creator of images like "Underwater Swimmer" (1917), "Chez Mondrian" (1926) or "Gabel" (1929) André Kertész has a firm place in 20th century photographic history. It is not only his formally outstanding compositions which won him great esteem, but the surreally inspired poetry with which he captures such apparently simple things and situations. His innovative photographic instinct inspired many of his colleagues: Brassaï learned from him and Henri Cartier-Bresson betrays his influence.

Berlin's Martin-Gropius-Bau is showing a grand retrospective of over 300 photographs by André Kertész, who was born in Hungary and lived in Budapest, Paris and New York.

The exhibition is organized by theme, following the main leitmotivs of his oeuvre, such as the recurrent observation of shadows, roofs and chimney tops, or the metaphorical portrayal of feelings like melancholy. In addition, it highlights groups of works that have hitherto been less familiar: early pictures shot during his military service in the First World War and the Polaroid shots he made during the last years in New York. Special attention is paid to Kertész's influence on the emergence of press photography in Paris from 1928 onwards. Several editions of "VU," "Art et Médecine"," Paris Magazine" and various editions of his feature on the Trappist Monastery in Soligny-la-Trappe will be on view in the exhibition.

André Kertész, who as Andor Kertész was born in Budapest into a middle-class Jewish family on 2 July 1894, dreamed of being a photographer even as a child. At the age of 18 he bought his first camera, an ICA Box for use with 4.5 x 6 cm plates. The photo of a sleeping boy dates from this early phase. During his military service in the Austrian-Hungarian Army he documented in laconic images the everyday life of the soldiers: the long marches, the waiting in the trenches, the forlornness of the individual. Wounded in September 1915, he took the famous photo "Underwater Swimmer" while recuperating in Esztergom in 1917. The optically distorted body covered with light reflections seems to anticipate later works. A decade was to pass before the aesthetic effects of reflection were to become popular at the Bauhaus.

After the war Kertész, who worked at the stock exchange, spent his leisure photographing quotidian motifs, like his brother Jenö practising sport, but Budapest did not offer a suitable setting for his artistic ambitions. In 1925 he decided to go to Paris, thus joining the large group of Hungarian artists and photographers – like László Moholy-Nagy, Robert Capa, Germaine Krull and Brassaï – who, after the disintegration of the Austrian-Hungarian Monarchy and the crushing of the Hungarian Soviet Republic, left Hungary in the 1920s and emigrated either to Paris or Berlin.

In Paris Kertész soon made contacts among the artistic avant-garde of Montparnasse: Piet Mondrian, Fernand Léger, Ossip Zadkine and Alexander Calder. In this period he did numerous photographic portraits in postcard format. Strolling through the great metropolis Kertész took photographs of Paris in the streets and parks, on the rooftops and on the banks of the Seine. He saw photography as a visual diary, as an instrument for describing life: "I interpret my feeling at a given moment. Not what I see, but what I feel."

His close-up shots and bird's-eye views, his eye for the geometrical structure of space, as well as for shade, reflections and silhouettes, soon brought him recognition. In 1927 the Galerie Au Sacre du Printemps put on the first major show of his work, and in 1929 he took part in the international exhibition "Film und Foto" in Stuttgart and Berlin. In 1928 Kertész began to work with a Leica, the first miniature camera. In the following years "VU" published more than 30 photo essays by him. In 1933 he produced the unusual series entitled "Distortions", in which female figures distorted by mirrors lead a life of their own between caricature and eroticism.

He also published books such as "Enfants" (1933), "Paris vu par André Kertész" (1934), and "Nos amies les bêtes" (1936). That same year Kertész accepted an offer from the Keystone Agency and moved to New York, but he soon cancelled the contract and went freelance.

His time in the USA was initially marked by difficulties in making ends meet, and in 1949 he accepted a post (which he kept until 1962) for the magazine "House and Garden". On a trip to Paris in 1963 he rediscovered a large number of his negatives, which inspired him to new artistic activity and brought him international recognition. In 1964 he exhibited at the Museum of Modern Art in New York. In his last creative phase, and particularly after he was no longer able to leave his apartment, he took photos of Washington Square from his window. In his book "From my Window" (1981) he published Polaroid shots of finely composed still lifes showing him still to be a master of light with the simplest of implements.

When André Kertész died on 28 September 1985, he left an archive of 100,000 negatives.