Berenice Abbott – Photographs
01 Jul - 03 Oct 2016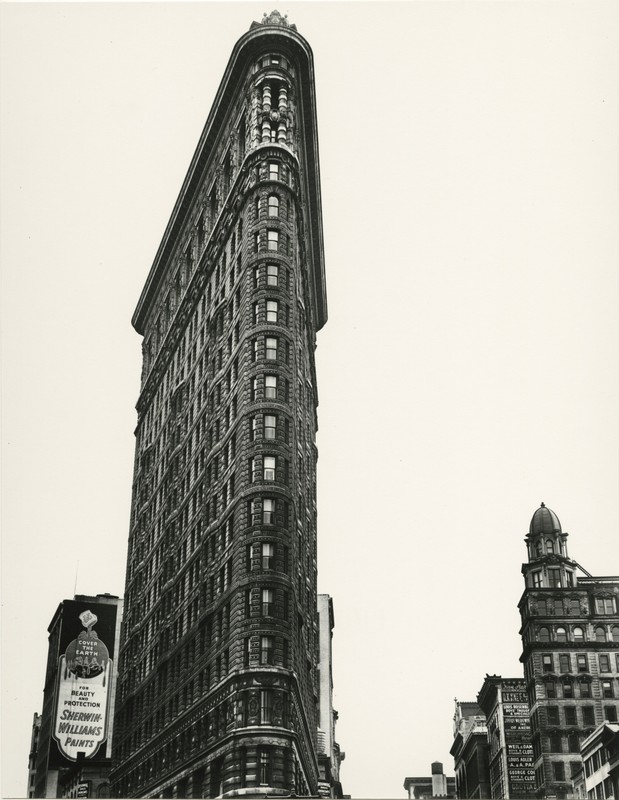 Berenice Abbott, Flatiron Building, 1938

© Berenice Abbott/ Commerce Graphics, courtesy Howard Greenberg Gallery, NY.

"Photography doesn't teach you how to express your emotions. It teaches you how to see"
Berenice Abbott

Berenice Abbott (1898-1991) is one of the most important photographers of the 20th century. She spent six decades taking pictures. The Martin-Gropius-Bau is now dedicating an exhibition featuring about 80 pictures to her. Her famous and iconic pictures from the Changing New York series, early portraits and her pioneering work as a scientific photographer will be shown.

Born in Springfield, Ohio, Berenice Abbott first studied journalism at the Ohio State University in Columbus before she moved to New York in 1918 to switch to sculpting. She became a Bohemian New Yorker, shared an apartment with author Djuna Barnes and befriended the Dadaists Marcel Duchamp and Man Ray who were about to move to Paris, the capital of modernity.
In 1921, at 22, Abbott also moved to Paris to continue to study sculpting. Without any money, she ran into Man Ray who happened to need an assistant for his portrait studio. Abbott began to work for him and discovered her talent for photography. Her first solo exhibition was at the Paris Gallery "Au Sacre du Printemps" in 1926 and featured portraits of artists and authors of the Parisian avant-garde.

Through Man Ray, she was also able to meet her idol, Eugène Atget, who captured old Paris in photographs. His photographs show the city in its various facets and offer a special view of Paris and its inhabitants around the turn of the last century. Through its scenic richness and independent creative solutions, his photography distinguishes itself from that of his colleagues who never went beyond documenting buildings. His work also displays an awareness of being at the turn of an era towards modernity. Man Ray who, like Atget, lived in the Montparnasse district of Paris, acquired around forty of his pictures of which he published four in "La Révolution surréaliste" in 1926.

Berenice Abbott visited Atget several times and purchased prints from him. After his death in 1927, she acquired roughly 1,500 negatives and 10,000 of the prints left in his studio. She returned to New York in 1929 to find a publisher for a book about her idol. It is thanks to her that Atget's photography exerted such an influence on American photographers such as Walker Evans or Lee Friedlander.

New York, like Paris, was also undergoing a transformation process. Old neighbourhoods were disappearing and replaced by a rapidly-growing skyline. Abbott moved from portrait photography to documenting and stayed in New York. She used Atget's Paris pictures as a guide and began documenting the ever-changing city: Ruins and demolished buildings standing as equals beside new skyscrapers, advertisements as signatures of the modern city, but also decay and poverty became themes for her photography. Abbott utilizes the visual vocabulary of modernity. She prefers a simple, yet dynamic style with top and bottom views, excerpts, stark contrasts and dramatic contours. Changing New York is the name of the chronicle she produced between 1935 and 1939 and published as a book in 1939.

In the 1940s, Berenice Abbott returned to scientific photography and served later as a picture editor for Science Illustrated. Abbott worked as a photographer until her death in 1991.

The exhibition gives an insight into the œuvre of a great artist.