Eugène Atget
28 Sep 2007 - 06 Jan 2008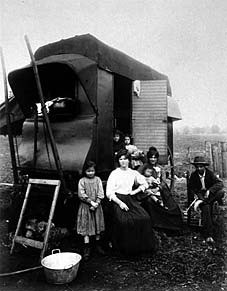 Porte d'Italie: Grenzbewohner, 13. Bezirk, 1912
© BnF / départment des Estampes et de la photographie
Eugène Atget
Retrospective
28 September 2007 to 6 January 2008

On the 150th anniversary of the birth of the French photographer Eugène Atget (1857–1927) a grand retrospective of his works will open at the Martin-Gropius-Bau Berlin on 28 September 2007. The exhibition was mounted by the Bibliothèque nationale de France. A selection of 350 works from Atget's extensive oeuvre will be on display.

Between 1897 and 1927 Atget, like no other photographer, captured the old Paris in his pictures. His shots show the city in its various facets: narrow lanes and courtyards in the historic city centre with its old buildings, of which some were soon to be demolished, magnificent palaces from the period before the French Revolution, bridges and quays on the banks of the Seine, and shops with their window displays. He photographed stairwells and architectural details on the façades and took pictures of the interiors of apartments. His interest also extended to the environs of Paris.

He produced timeless views of the parks of Versailles, Saint-Cloud and Sceaux. In addition to architecture and the urban environment he also photographed street-hawkers, small tradesmen, rag collectors and prostitutes as well as fairs and popular amusements in the various districts. The outlying districts and peripheral areas, in which the poor and homeless sought shelter, also furnished him with pictorial motifs.

Atget, who had begun his career as an actor and tried his luck as a painter without success, did not begin to work as a photographer until 1888. He originally offered his pictures, which he called "documents pour artistes", as originals for artists and craftsmen to work from. From 1898 onwards he increasingly devoted himself to the systematic documentation of the buildings that bore witness to the period before 1789. The photographs were bought by institutions like the Bibliothèque historique de la Ville de Paris, the Bibliothèque nationale, and museums. His activity came at a time when there was a general awareness that Modernism was ushering in a new era. Hence the efforts of various institutions to have a visual record of the old Paris as it was before it underwent its architectural transformation.

Atget's pictures are distinguished from those of his colleagues, who kept to a strictly documentary approach, by their wealth of motifs and originality of design. He chose his own subjects, often employing strong light contrasts, shadows and overlapping forms, which lend his pictures plasticity. He used a heavy plate camera, a tripod and mirror-image negatives with an 18x24-centimetre format. His equipment – which he took with him everywhere – weighed about 20 kilograms.

In the mid-1920s Atget was discovered by the artists of the young avant-garde. Man Ray, a fellow resident of Montparnasse, bought about forty photographs and included four of them in his 1926 publication La Révolution surréaliste. Man Ray's young assistant, the photographer Berenice Abbott, visited Atget on several occasions and bought prints from him. After his death in 1927 she acquired about 1,500 negatives and 10,000 of the prints remaining in the studio and took them to the U.S. where, together with the gallery owner Julien Levy, she devoted herself for forty years to the task of making this unique oeuvre known. It is thanks to her that Atget's photographs exercised a considerable influence on American photographers, such as Walker Evans or Lee Friedlander.

In 1968 Berenice Abbott sold her collection to the Museum of Modern Art in New York, which in the period between 1981 and 1985 published four catalogues compiled by John Szarkowski and Maria Morris Hambourg. In France people like Robert Desnos and Pierre Mac Orlan had tried in the late 1920s and early 1930s to make Atget's oeuvre known to a wider public. In his 1931 history of photography Walter Benjamin praised Atget as a precursor of surrealist photography, thus paving the way for his recognition in Germany.

The exhibition in the Martin-Gropius-Bau comprises seven chapters. A particular highlight may be seen in the albums compiled by Atget himself on various themes, such as Parisian apartments, shop windows, and fortifications. Most of the photographs come from the holdings of the Bibliothèque nationale de France and other public and private collections in France and abroad (Musée Carnavalet, Bibliothèque historique de la Ville de Paris, Musée d'Orsay, Bibliothèque des Arts décoratifs, Museum of Modern Art of New York, Collection Première Heure, Collection Thérond and others).