Meret Oppenheim
16 Aug 2013 - 06 Jan 2014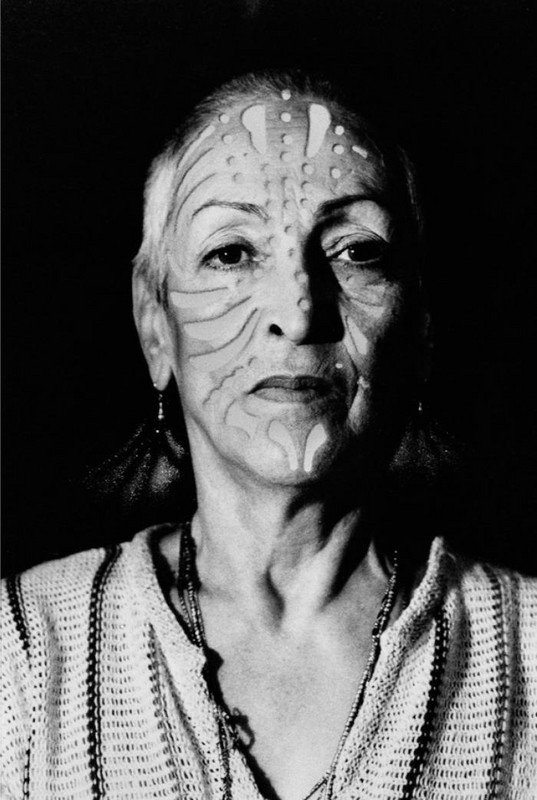 Meret Oppenheim
Porträt mit Tätowierung, 1980
Kunstmuseum Bern, Hermann und Margit Rupf Stiftung
Photo: Heinz Günter Mebusch, Düsseldorf
© VBK, Wien, 2012/13 / VG Bild-Kunst, Bonn, 2012/13
MERET OPPENHEIM
Retrospective
16 August 2013 - 6 January 2014

CURATOR Heike Eipeldauer

Berlin is dedicating a first major retrospective to Meret Oppenheim to mark the centenary of the famous artist's birth here on 6 October 2013. The playful and humorous treatment of everyday materials, conveyed with constantly new connotations, is a special feature of Oppenheim's artistic works and links her to her artist friends whose company included Max Ernst, Alberto Giacometti, Hans Arp and Man Ray. The photographs in the "Érotique voile" series (1934), in which Man Ray posed his model, are now among the most outstanding works of surrealism in the Parisian circles of which Oppenheim was highly acknowledged. The discursive power of her surrealism could be felt in 1983 when her Oppenheim Fountain was inaugurated in Bern's Waisenhausplatz, a visit to which is highly recommended.
The reception of Meret Oppenheim's extremely diverse oeuvre, influenced by experimentation and upheavals, metamorphoses and the "dream-like", has not always been easy. The artist dispensed with uniformity or recognisability in favour of experimental joyfulness which enabled her to transcend the confines of an artistic style, a genre or a linear development.

Language, myths, games and dreams served her purpose as impetus just as literary sources and the psychoanalysis of C.G. Jung. "Freedom isn't given to you – you have to take it", Oppenheim summed up her position in 1975.

Her emancipatory, non-conformist attitude and her critical approach to social stereotyping and allotted gender roles made her a central identification figure for following generations of women artists.

The exhibition will show the whole spectrum of Meret Oppenheim's oeuvre, which in its independence and diversity is still a pioneering force even today. Following Oppenheim's artistic method, who kept returning to specific motifs over long periods of time and subjected them to new treatment, the show runs a course through the ever-densifying themes in a cross-section of the artist's creative periods: magic objects, dream scenes and myths, depictions of the invisible, cadavre-exquis and play as an artistic method, the search for identity, metamorphoses between the sexes, between human being and animal, nature and civilization. Starting out from her much appraised early work in the circle of the surrealists and proceeding to her less well-known poetic late work, the exhibition will show not only drawings, paintings, objects and collages, but also her writings and dream notations as well as her humorous and fantastical jewellery, dress and other designs. "Every idea is born with a form. You never know where the ideas come from: they bring their form with them; just as Athena sprang out of the head of Zeus, helmeted and armoured, thus do the ideas emerge with their apparel."

In 1982, Meret Oppenheim was honoured with the Art Prize of the City of Berlin. In the same year, she participated in documenta 7. Shortly before her death, she became a member of the Berlin Academy of the Arts. She died in Basel in 1985.

The retrospective is being produced in close cooperation with the artist's family and with the Kunstmuseum Bern, home of the Meret Oppenheim Archive, which owns in the artist's legacy the most important collection of Meret Oppenheim's works.

The exhibition was produced together with Kunstforum Vienna.

ORGANIZER Berliner Festspiele. An exhibition by Martin-Gropius-Bau Berlin and Bank Austria Kunstforum Wien. Funded by the Capital Cultural Fund in Berlin. With kind support of Pro Helvetia.