Martin Parr
07 May - 17 Aug 2008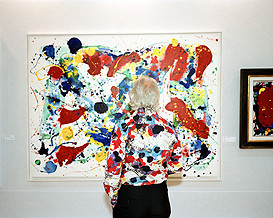 © martin parr
abstract painting with abstract shirt
united arab emirates. dubai. difc
(dubai international financial centre) gulf art fair, 2007
PARRWORLD
'if people laugh and cry at the same time when looking at my pictures then it is exactly the reaction that the images provoke in me. things are neither... good nor bad. i am always interested in showing both extremes.' martin parr
garish colours, bizarre motifs, as well as unusually compacted perspectives are characteristic for the photographs by british photographer martin parr (*1952, bristol). many of his images appear exaggerated and yet they are also always inventive and humorous. for more than 30 years, parr has been documenting society and everyday culture, predominantly in his home country great britain, but beyond this, he has also documented global phenomena such as mass tourism, consumerist behaviour or so-called leisure time. martin parr is considered to be a satirist of contemporary life; his photographs are unsparingly critical and his inimitable eye unmasks the banal as well as the grotesque.
for his new series 'luxury', which is being premiered at the haus der kunst, the award-winning artist photographed fashion shows, horse races as well as art and luxury fairs in international locations such as dubai, durban or moscow – but also munich's oktoberfest. in 'luxury' the international jet-set can be observed how they proudly present the regalia of new money and opulence. using the means of the grotesque, parr is consistent in addressing the phenomenon of a new international upper class following his earlier projects on the working and middle class.
martin parr, who is a member of the legendary photo agency 'magnum', is considered to be one of the most dynamic contemporary photographers. since the 80s he has published more than thirty books and shown his images in countless solo and group exhibitions; his works are part of eminent national and international art collections.
in 'parrworld' the artist will show his photographs in dialogue with his own various collections, which include strange objects, odd postcards, photographs by international artists, as well as an extraordinary collection of photography books, for the first time. his fascination for the peculiar and his liking for the exception to the rule, for the unusual and the curious, colour his collections with an individual flair. 'parrworld' thereby turns into a medial wunderkammer with many surprises and an entertaining yet serious analysis of photography as a medium.
www.hausderkunst.de