Backdoor Fantasies
05 Apr - 10 Aug 2014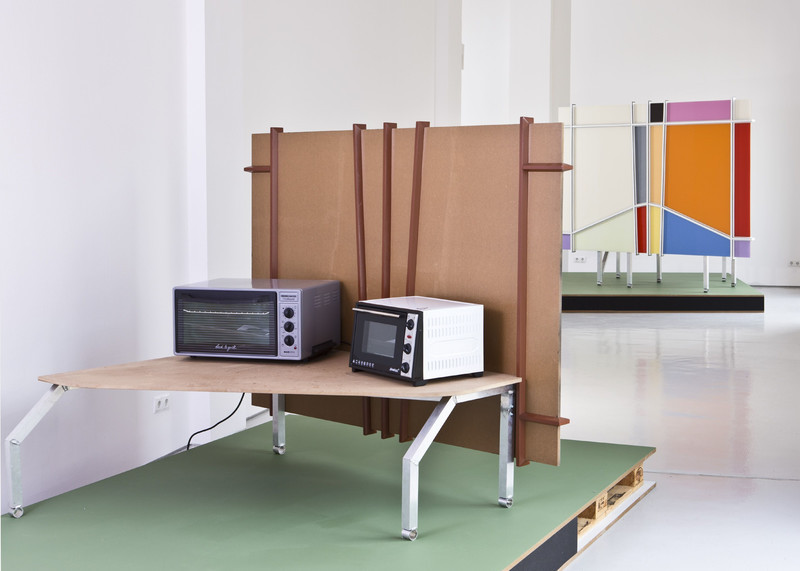 © Michael Beutler
Carpet and Loom
Courtesy der Künstler/the artist und/and Franco Soffiantino Contemporary Art Productions, Galerie Bärbel Grässlin, Frankfurt am Main, Galerie Nagel-Draxler, Köln/Berlin; Foto: Michael Beutle
BACKDOOR FANTASIES
5 April – 10 August 2014
Partner of The Quadriennale Düsseldorf 2014

Michael Beutler, Jean-Pascal Flavien, Ludger Gerdes, Jan Hoeft, Anna K.E., Isa Melsheimer, Aernout Mik, Hans Peter Reuter, Tata Ronkholz, Katja Strunz, Günter Weseler, Christof Zwiener

Curators: Julia Höner and Ludwig Seyfarth

OPENING: Friday, April 4, 2014, 8 p.m.

Backdoor Fantasies features art marked by the desire for new beginnings, experimentation, and transformation. It also encompasses utopian ideas, but not a static vision of a supposedly better world or a global catastrophe. Artists often look with ambivalence toward the future, peering behind façades and mistrusting grandiose promises. They can also regard technological and urban changes in the same way. In contrast to concepts with pointedly defined goals, like rationalized urban planning projects, transformation in art is an open-ended process that allows room for individual projections and fantasies.

Dusseldorf's Media Harbour is the reference point for the exhibition Backdoor Fantasies. Beginning in the 1960s, urban development and new landmark architecture catapulted the old docklands into the next century. This ambitious urban renewal project represented the start of a prosperous future. Five decades later it is time to ask what remains of the urban and workplace utopias envisioned then. The exhibition takes place at KAI 10, but also leads the visitor to other spaces, both indoors and out. One of the project's main ideas is to look behind the façades: Backdoor Fantasies focuses on the visions and repressed emotions that are swept under the carpet, as it were, during the process of planning an area like the Media Harbour. The exhibition will capture the specific atmosphere of this area, reflecting upon it in works of art and turning the abstract notion of this district into a sphere of personal experiences. Twelve international artists are represented in the show, some with new productions, others with existing works. Instead of direct site-specificity, the project relies upon surprising confrontations and research into subtle emotional qualities.

The associative starting point for the exhibition is a work by Ludger Gerdes—Angst (fear), from 1989—neon lettering framed by pictograms of a golfer and a church. The evocation and analysis of disturbing emotional states play a role here, as they do in the film installation by Aernout Mik. His work consists of videos of real and staged gatherings, which can be watched on several screens at the same time, although there is no verbal communication of any sort. Mute witnesses to the history of the Media Harbour are the photographs taken around 1980 by Tata Ronkholz, who documented the radical transformation of this quarter at that time. Besides the now-deceased Gerdes and Ronkholz, Günter Weseler is another renowned Dusseldorf artist. His kinetic objects paraphrase living bodies, while subtly infecting sterile-looking architecture with feelings of claustrophobia and repulsion. A fundamental reflection upon the transformation from craftsmanship and industrial production to post-industrial service industries—of which the Media Harbour is an example—takes place in the work of Michael Beutler, in whose installation carpets are woven. For the opening of the exhibition, Anna K.E.'s richly associative screens function as a bakery for traditional Georgian bread, yet the room dividers, whose colorful façades recall the surrounding architecture, are also confronted with intimate activities. Christof Zwiener documents and works on the relics of the suppressed and "closed" history of East Germany, while questioning forms of collective memory, which can also be encountered at the Media Harbour. Jan Hoeft's contribution is also conceived for the outdoors and focuses on the sense of unease that monumental industrial buildings trigger in us. While Jean-Pascal Flavien subjects the forms and usage of architecture to a playful analysis, the architectonic in the works of Isa Melsheimer is shifted to a light, ephemeral, aggregate state. Heaviness and lightness are also perfectly balanced in Katja Strunz's work. A hexagonal object floats in the harbour, looking like a folded, complex, three-dimensional structure. At KAI 10 Hans Peter Reuter's paintings of what look like tiled rooms return to a place they have already been—as his Dusseldorf gallery once occupied the same space. The program of Backdoor Fantasies involves overlapping different time periods and spaces, so that "historical" works can be seen juxtaposed with completely new works, some of which have been created specifically for this exhibition.