Drawing a Universe
19 Jan - 23 Mar 2013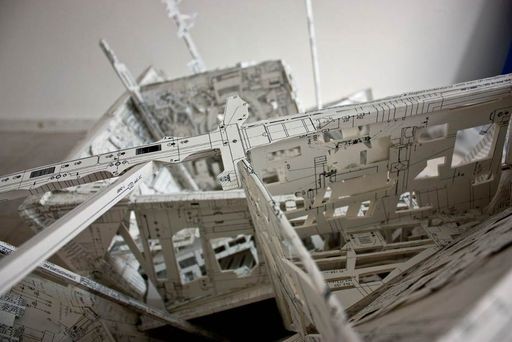 © Jenny Michel
Paradise-Vehicle #4, 2012
Objekte, Tusche, Kopine und Cut-Outs, verschiedene Papiere, Karton, Holz
90 x 100 x 50 cm
Courtesy Galerie FELDBUSCHWIESNER, Berlin
DRAWING A UNIVERSE
19 January - 23 March 2013

William Engelen
Bettina Krieg
Jenny Michel
Anke Röhrscheid
Nora Schattauer
David Thorpe
Jorinde Voigt

Curator: Ludwig Seyfarth

The exhibition Drawing a Universe presents drawings, objects and installations based on the process of sketching, drafting, mapping, copying, repeating and translating. Small or even minute elements are aligned in systematic rows or are networked, linked and consolidated to form complex systems that very much follow their own laws. The focus and the isolation of the tiniest detail exist in addition to the overall picture, towards the "wimmelbild", an ensemble made up of numerous individual elements. These surreal "universes in a nutshell" do not follow a familiar scale. They oscillate between micro- and macro-cosmoses, triggering associations with biological micro-processes or graphic depictions of physical processes. They are the global landscapes of our age, so to speak, in which the call for universal visibility is becoming stronger and stronger while the processes that really determine what happens in the world occur on a level that most people are unable to perceive.