15 Years of Collecting: Against the Grain
16 May - 16 Sep 2009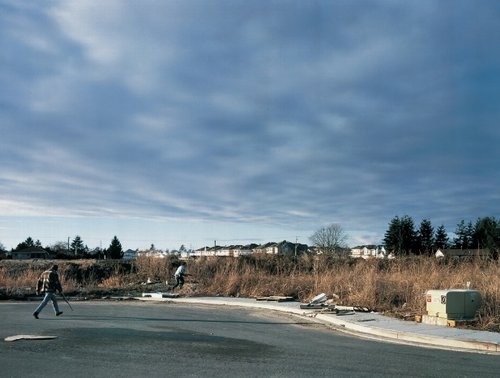 © Jeff Wall
A Hunting Scene, 1994
Cibachrome, Aluminiumleuchtkasten, Leuchtmittel
Außenmaße: 183 x 253 x 25 cm
sichtbare Größe des Cibachromes: 167 x 237 cm
15 YEARS OF COLLECTING:
AGAINST THE GRAIN

16.05.2009 - 16.09.2009

Franz Ackermann · Carl Andre · Nobuyushi Araki · John M Armleder · Richard Artschwager · Christian Boltanski · Stanley Brouwn · Hussein Chalayan · Tony Cragg - René Daniëls · Thomas Demand (W) · Jan Dibbets · Olafur Eliasson · Peter Fischli/David Weiss · Gilbert & George · Dan Graham (W) · Paul Graham · Andreas Gursky · Eberhard Havekost · Georg Herold · Gary Hill · Damien Hirst · Hanspeter Hoffmann · Gary Hume · Christian Jankowski · Sarah Jones (W) · Donald Judd (W) · Anish Kapoor (W) · Anselm Kiefer · In Sook Kim (W) · Ola Kolehmainen · Jannis Kounellis · Joseph Marioni (W) · Maix Mayer (W) · Allan McCollum · Gerhard Merz · Mario Merz · Sarah Morris · Maurizio Nannucci (W) · Bruce Nauman · Nam June Paik · Verner Panton · Jorge Pardo (W) · Elizabeth Peyton · Neo Rauch · Tobias Rehberger · Gerwald Rockenschaub (W) · Thomas Schütte · Cindy Sherman · Florian Slotawa (W) · Beat Streuli (W) · Philip Taaffe · James Turrell (W) · Jeff Wall · Sascha Weidner (W) · Lawrence Weiner

The Kunstmuseum Wolfsburg celebrates its 15th anniversary in May 2009. Since it opened in 1994, the museum has been collecting contemporary art; the starting point of the collection is the 1960s, represented by works of Minimal art, Conceptual art and Arte Povera. These are augmented by younger artistic positions. From the outset, the aim was to build a collection with a distinct profile rather than a broad-based, art-historical one. The emphasis is on key works, groups of works and significant work periods as well as the representative presentation of major developments within art. The collection does not document artistic currents; instead it concentrates on individual positions and works that reflect important aspects of contemporary art. Since the appointment of the new director in 2006, exploring the theme of modernism in the 21st century has become a central focus.
The anniversary exhibition aims to present the collection of the Kunstmuseum Wolfsburg, which at the time of its inception already went 'against the grain' in comparison to other collections in Germany, with a selection of works and themes that mark the boundary between art and its neighbouring disciplines. These include technology, design, fashion and architecture. The anniversary exhibition offers visitors their first opportunity to view in context the new accents that have been placed by the new museum director in the acquisition of artworks over recent years. This exhibition is supported by Volkswagen Financial Services AG.