Rudolf Steiner and Contemporary Art
13 May - 21 Nov 2010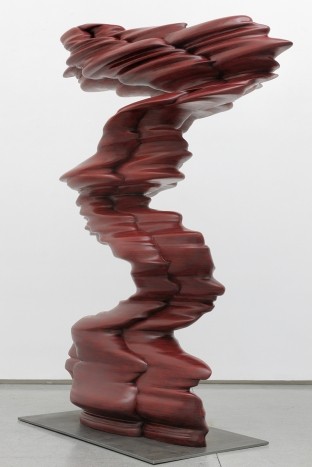 Tony Cragg
Red Figure, 2009
Wood, 233 x 215 x 60 cm
Courtesy der Künstler
Photo: Charles Duprat
© VG Bild-Kunst, Bonn 2010
RUDOLF STEINER AND CONTEMPORARY ART

13.05.2010 - 03.10.2010
/Extended until November 21, 2010/

An exhibition of the Kunstmuseum Wolfsburg in cooperation with the Kunstmuseum Stuttgart

Never before has the "Steiner cosmos" been as comprehensively portrayed as in the two parallel exhibitions "Rudolf Steiner and Contemporary Art" and "Rudolf Steiner - The Alchemy of the Everyday." This large-scale, two part project takes up a phenomenon that has only attracted little attention in the past, but which is among the most exciting chapters in modern art and intellectual history. Major artists ranging from Wassily Kandinsky and Piet Mondrian to Joseph Beuys regularly occupied themselves with Rudolf Steiner's universal world of ideas and drew valuable impulses from them for their work. With the start of the twenty-first century, this link has a received new brisance resulting from the increasing interest contemporary artists have been showing in Steiner. Against the backdrop of the lively debates regarding ecological responsibility, the religious search for meaning, and an economic system that has spun out of control, the integral world view such as Steiner's is simultaneously experiencing growing attention.

The part of the exhibition entitled "The Alchemy of the Everyday" assembled by the Vitra Design Museum examines the impact of this central twentieth-century reformer in the fields of architecture, art, and society. It is the world's first comprehensive retrospective dealing with Steiner outside an anthroposophical context.

The exhibition "Rudolf Steiner and Contemporary Art" organized by the Kunstmuseum Wolfsburg in collaboration with the Kunstmuseum Stuttgart attempts to unlock Steiner's Universalist world of ideas based of the works of fifteen present-day artists.

We would like to thank the Steiner Archive and the Kunstsammlung Goetheanum in Dornach for helping us with our research. The exhibitions are supported by Volkswagen Financial Services AG and the German Federal Cultural Foundation.

In the exhibition "Rudolf Steiner and Contemporary Art", the Kunstmuseum Wolfsburg and the Kunstmuseum Stuttgart will explore the connections and responses to Rudolf Steiner's ideas that can be found in the work of contemporary visual artists. In selective presentations and specially conceived installations, artists such as Meris Angioletti, Joseph Beuys, Tony Cragg, Olafur Eliasson, Helmut Federle, Katharina Grosse, Anish Kapoor and Giuseppe Penone develop individual approaches to Steiner's aesthetic and philosophical theories. Some surprising connections are revealed, which in turn present Steiner's aesthetics in a new, modern light. The most interesting aspect of Steiner's approach in this context is neither his artistic theory nor his position within the anthroposophical movement, but rather his holistic, creative thinking, which gave form and expression to the reality of the spirit and the presence of the invisible.

The accompanying exhibition catalogue will feature essays by noted authors and is to be published in both an English and a German edition.