Slapstick!
20 Jul 2013 - 02 Feb 2014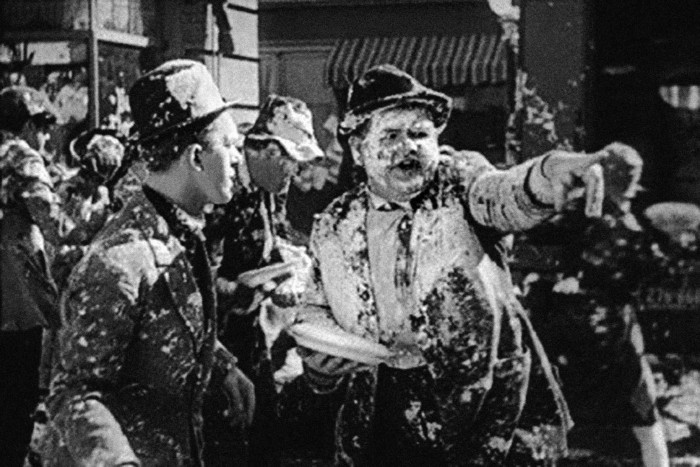 Slapstick! Alÿs, Bock, Chaplin, Hein, Laurel & Hardy, Keaton, Matta-Clark etc.
The Battle of the Century

1927, USA
Director: Clyde Bruckman Producer: Hal Roach
© CCA
SLAPSTICK!
20 July 2013 - 2 February 2014

Alÿs, Bock, Chaplin, Hein, Laurel & Hardy, Keaton, Matta-Clark etc.
Francis Alÿs · John Bock · Charlie Chaplin · Clyde Bruckman · Marcel Duchamp · Robert Elfgen · Peter Fischli/David Weiss · Rodney Graham · Jeppe Hein · Buster Keaton · Szymon Kobylarz · Alexej Koschkarow · Peter Land · Louis Lumière · Gordon Matta-Clark · Bruce McLean · Steve McQueen · Bruce Nauman · Fred C. Newmeyer · Vincent Olinet · James Parrott · Wilfredo Prieto · Charles Reisner · Edward Sedgwick · Mack Sennett · Timm Ulrichs · John Wood · Paul Harrison

The exhibition at the Kunstmuseum Wolfsburg shows works by contemporary artists in the context of silent slapstick movies from the early history of cinema, tracing in the process the characteristics of slapstick in the art of the present day. Objects, installations, photographs and films by such artists as John Bock, Rodney Graham, Wilfredo Prieto, Timm Ulrichs, Fischli/Weiss, Bruce Nauman and Francis Alÿs are combined in an informal exhibition parcours with selected key sequences from famous silent movie classics by Charlie Chaplin, Buster Keaton, Harold Lloyd or Laurel & Hardy.

The "slap stick" was originally a simple theatrical prop, a club-like object that made a loud smacking sound, and the name for the whole genre developed from it. The history of slapstick comedy can be followed from the Italian Comedia dell'arte and vaudeville to the early slapstick movies of the 20th century. The pitfalls of the banana peel, pie fights, brawls and chase scenes, but also the large and small vagaries of everyday life and the battle between man and machine have formed the basis for famous slapstick routines. Artists have long been on the heels of the great comic masters and taken advantage of the cultural codes of slapstick. They made targeted use in their works in various media of slapstick quotations, motifs and concepts deriving from this genre.