Alexander Calder and Contemporary Art: Form, Balance, Joy
26 Jun - 17 Oct 2010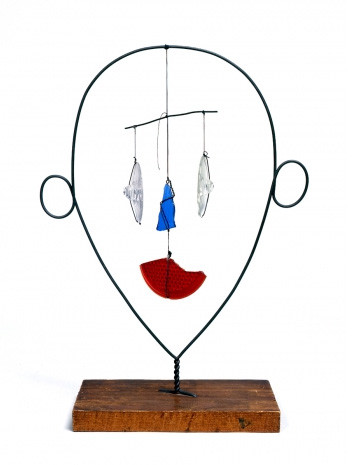 Alexander Calder
Little Face, c. 1945.
The Leonard and Ruth Horwich Family Loan.
© 2009 Calder Foundation, New York / Artists Rights Society (ARS), New York.
ALEXANDER CALDER AND CONTEMPORARY ART: FORM, BALANCE, JOY

June 26 - October 17, 2010

A well-known, even beloved figure, Alexander Calder has not previously been considered an influential figure for contemporary artists. Yet in the past few decades, more and more young artists are taking cues from this American master, whose hands-on explorations of form, balance, color, and movement make him instantly recognizable. These artists explore three-dimensional space, through structure and color, in many cases handcrafting their materials into expressive artworks that celebrate the visual over the intellectual experience. Calder is also being looked to by this new generation as a trail blazer in what is now known as creative reuse -- taking ordinary or cast-off materials and refashioning them into works of art.
Alexander Calder and Contemporary Art: Form, Balance, Joy is the first exhibition to explore Calder's significance for the new generation of artists emerging in the 1990s and early 21st century. A major presentation of Calder works drawn from the MCA's extensive holdings and Chicago area public and private collections are mounted along with works by five or six sculptors who have been directly influenced by Calder. Artists to be featured include Nathan Carter, Abraham Cruzvillegas, and Jason Middlebrook.
Curated by MCA Curator Lynne Warren, it is accompanied by a fully-illustrated catalogue and is expected to tour nationally.