Trajal Harrell
In one step are a thousand animals
01 Sep 2014 - 08 May 2016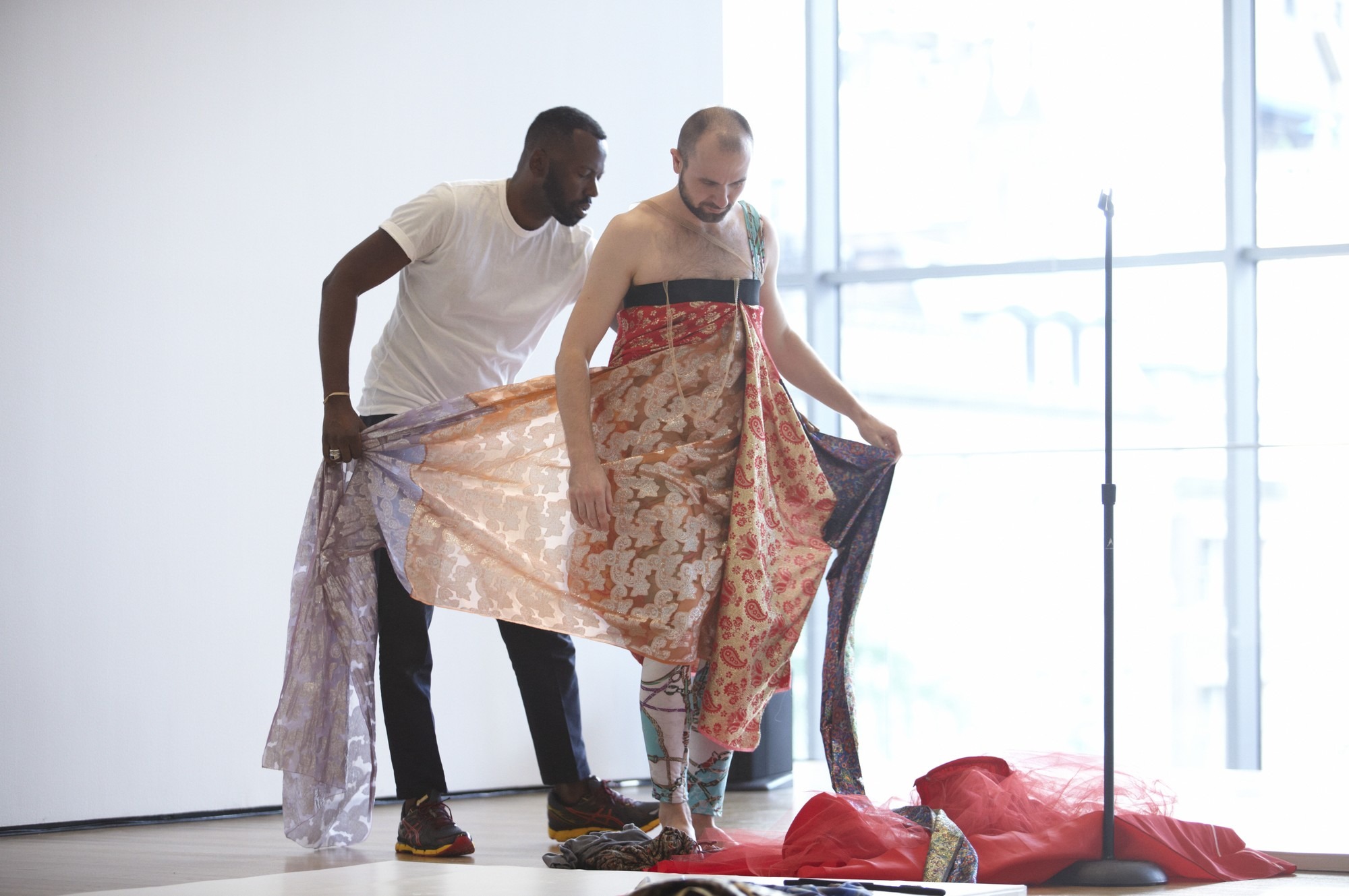 "The Practice," from the performance, "Trajal al Harrell: In one step are a thousand animals"
September 4, 5, 2014. IN2310A.23. Photograph by Julieta Cervantes.
Trajal Harrell's (American, b. 1973) In one step are a thousand animals is a two-year artist residency at the Museum of Modern Art that culminates in the commission of a new work. One of the most prominent choreographers and dancers of his generation, Harrell confronts the history, construction, and interpretation of contemporary dance. Starting from the premise that history is always partly a fiction, Harrell works with historical imagination as a way to rethink how to process and interpret our pasts.

While working on his Twenty Looks or Paris Is Burning at The Judson Church, which is an exploration of a hypothetical hybrid movement drawing both from postmodern dance and voguing, Harrell began investigating the history of butoh, a dance form created in part to resist the conservatism permeating postwar Japanese choreography. As Harrell learned more, the project transformed, focusing on the life and work of Japanese choreographer Tatsumi Hijikata (1928–86), a butoh pioneer. Hijikata situated butoh as an outlaw, literary, and surrealist dance form, dealing with themes of death, criminality, abjection, and the body. Harrell's research culminated in Used, Abused, and Hung Out to Dry, which was commissioned by MoMA as part of Performing Histories: Live Artworks Examining the Past in connection with the exhibition Tokyo: The New Avant-Garde 1945–1970.

In one step are a thousand animals includes further in-depth exploration of Hijikata's work and the aesthetic possibilities of butoh through a series of public events including performances, conversations, and open rehearsals.

In one step are a thousand animals began in September 2014 with The Practice, in which Harrell offered insights into his working methods for Twenty Looks or Paris Is Burning at The Judson Church inviting participation from internationally renowned musicians, composers, DJs, singers, and dancers. The working process was made visible to spectators over two days in three two-hour sessions.

Guest collaborators: Rob Fordeyn, Megan LeCrone, Alex Mugler, Susanna Sloat, Stephen Thompson, Ondrej Vidlar, Sandy Williams
Sound: Selvin Mizrahi, Imani Uzuri
Costumes/styling: Stephen Galloway

Choreography: Trajal Harrell
Dancers: Trajal Harrell, Thibault Lac, Ondrej Vidlar
Set design: Trajal Harrell
Lighting design: Stefane Perraud
Soundtrack: Trajal Harrell
Costumes: Comme des Garçons, Ann Demeulemeester, Jean Paul Gaultier, and the performers
Production manager: Bob Bellerue
Technical director: Alexander Symes
Company manager: Michael Hart
Managing director: Catherine Levine

Organized by Ana Janevski, Associate Curator, with Martha Joseph, Curatorial Assistant, Department of Media and Performance Art.