EXCERPT FROM 'VAN VIRTUELE GALERIE TOT WHITE CUBE MET NEW YORKSE ALLURE, OVER DE DIVERSITEIT VAN HET PLAATSELIJKE GALERIELANDSCHAP, TATJANA PIETERS, GALERIE TATJANA PIETERS - GENT'

Text: Joris D'hooghe / Translation from Dutch to English: Helen Simpson
Source: Kunsttijdschrift Vlaanderen, Jaargang 61, Juni 2012

After graduating from the department of Conservation and Restoration at the Antwerp Academy of Fine Arts, Tatjana Pieters enrolled at the University of Ghent, to study art history. During her final year, she gained her first experience in a commercial art gallery, and it was not long before she decided to shoulder a similar project. After initially setting up a joint venture with the London gallery The Agency, under the banner 'OneTwenty', Pieters became a completely independent art dealer in 2008.

Since Antwerp-born Pieters made her debut onto the gallery scene, it has become impossible to imagine Ghent artistic life without her. In just a few years, she has developed an enterprise that is an irrefutable witness to a vision that is both ambitious and forward-looking. In particular, Pieters wants to give the group of artists that she represents a push in the back in terms of their artistic growth and development and, in so doing, to play the role of 'catalyst' in their careers. The careers of the artists with whom she collaborates are not always necessarily at the same stage. Thus Pieters' gallery works with both young artists, such as 22-year-old Rein Dufait from Ostend, and the older generation that includes, amongst others, sixty-six year-old Philippe Van Snick. Pieters' collaboration with Van Snick – who was one of the precursors of conceptual art in Belgium in the early 1970s – came about after she was impressed by the retrospective of his work organised by Museum M in 2010. Pieters contacted Van Snick, who no longer appeared to be represented by a gallery and, consequently, had not sold his work in many years. Pieters, ever the absolute catalyst, decided to change this. And with success, it would seem. In the same year as the retrospective at Museum M, Van Snick took part in a modest group exhibition in Pieters' gallery together with his contemporary Walter Swennen, amongst others. It was a smart commercial move for Van Snick who – as Pieters predicted – sold more work in that short space of time than he'd ever done before. It is proof of Pieters' ambitious and considered quest for the re-contextualisation of the established values that threaten to fall between the gaps in art history.

As a relatively young gallery owner, Tatjana Pieters has a clear vision on her profession. She thus approached the recently launched Internet initiative 'Art +' – a website that acts as a virtual gallery – in a healthy, critical way. She stated that increasing the visibility of an artist can be called a good thing in itself, were it not that Art + ignores the only correct experience of art: the physical. [...] Pieters is therefore much more than a sophisticated art dealer who employs a smart sales strategy to sell work by the artists in her stable. She has also conquered a place in the non-commercial art world. In 2008, she was appointed to the grant-giving Committee for Visual Arts of the Flemish Community and, since 2010, she has served on the board of the Friends of S.M.A.K. These two achievements, in particular, are thanks to the seriousness with which Pieters moves in the gallery landscape – a seriousness that is also radiated by the gallery itself. In 2011, Pieters had to relocate her quintessentially Ghent gallery when the building in which it was housed was going to be demolished. Rather than opting for a move to Antwerp or Brussels, only to find shelter in a space the size of a 'match box', and then 'to become one of the many', she chose to stay in Ghent. The gallery took up residence in a warehouse on the Nieuwevaart that, after an architectural intervention by designer Pieterjan Deblauwe, quickly gained a New York-style allure.

The future is therefore promising for Pieters, who says that she isn't worried about the impact that the financial crisis might have upon the growth of the gallery. So long as Tatjana Pieters keeps producing a strong programme in an impressive spatial context, it might not be too long before her words seem prophetic.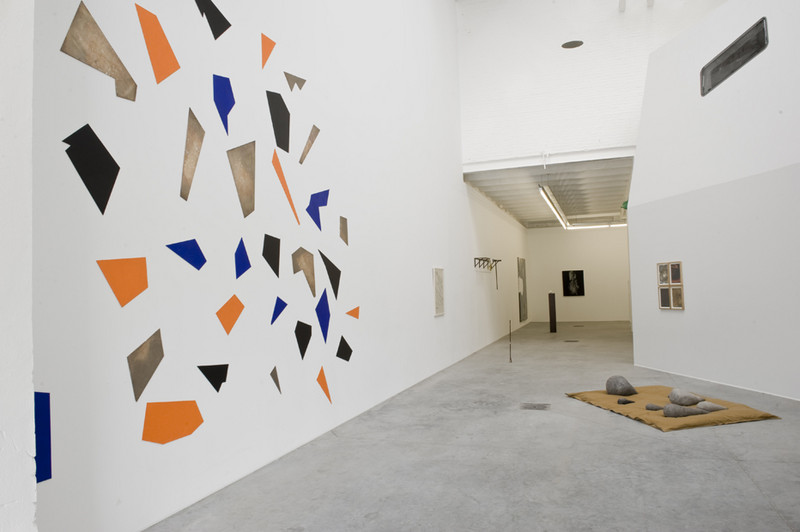 Change of Address, Opening of the New Space, Galerie Tatjana Pieters, Gent (BE), 2011 / Courtesy the artists & Galerie Tatjana Pieters / Photography by Joachim Dewilde