Artists for Athens Pride
15 - 17 Mar 2012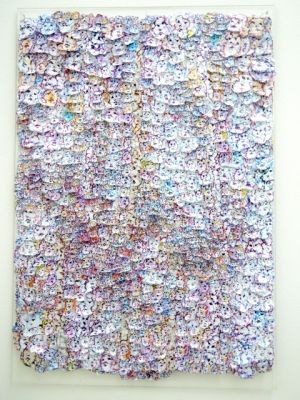 © Rena Papaspyrou
Total Visibility Blinds Me, 2011
Color photocopies and paint
65 x 45 cm approx
Courtesy the Artist
ARTISTS FOR ATHENS PRIDE
Exhibition – Benefit Auction for Athens Pride 2012
15 - 17 March, 2012
The Breeder is delighted to invite you to the fourth annual exhibition and auction of contemporary artworks, the entire proceeds of which will go to support Athens Pride (9 June 2012). The exhibition is organized by Andrea Gilbert, an art critic/curator and Athens Pride organizer.
Artists for Athens Pride, like the festival it supports, is one of the city's most popular and eagerly awaited events of the year. This year the exhibition presents works donated by 30 Greek and foreign artists (from the USA, Germany, Australia, Scotland, England, Norway). With the participation of some of the most established names in Greece art, this group show bridges the generations as well as the major currents in today's visual arts.
For the past 3 years the auction Artists for Athens Pride has provided most of the funding for Athens Pride, enabling it to produce free public cultural and political events that are enjoyed by thousands. This extraordinary display of sensitivity and conscience on the part of artists in Greece and abroad has made Athens Pride unique, as the only Pride in the world to be primarily supported by the visual arts community.
An exciting contemporary art survey in and of itself, Artists for Athens Pride IV offers art lovers and collectors a unique opportunity to acquire superior quality artworks at extraordinary prices while supporting the philanthropic project of Athens Pride.
Artwork generously donated by: Hilde Aagaard, Alexis Avlamis, Helen de Main, Anastasia Douka, Dimitris Douramakos, Eirene Efstathiou, Dimitris Foutris, Tony Garifalakis, Alexandros Georgiou, Maria Georgoula, Marianna Gioka, Michalis Katzourakis, Lakis & Aris Ionas / The Callas, Niall Macdonald, James McLardy, Katerina Mertzani, Nicolas Moore, Eleni Mylonas, Catalina Niculescu, Giorgos Papadatos, Nikos Papadimitriou, Dimitris Papaioannou, Tereza Papamichali, Rena Papaspyrou, Nicolas Party, Georgia Sagri, Ioannis Savvidis, Aspa Stassinopoulou, Panos Tsagaris, Zafos Xagoraris
We thank them from the heart!
About Athens Pride:
This year, Athens Pride (
www.athenspride.eu
), an all-volunteer, non-profit association, will hold its 8th annual festival on 9 June in Klafthmonos Square, with a parade followed by a live show and dance party. Besides its main festival, Athens Pride produces and supports events throughout the year that promote the positive visibility and acceptance of LGBT persons, combat prejudice and oppression, and advocate for fundamental rights in Greece. In addition, Athens Pride champions its struggling neighbouring Prides through its Solidarity & Exchange Program.