Fabian Marcaccio "Analytical Rage-Paintants"
31 Oct 2009 - 16 Jan 2010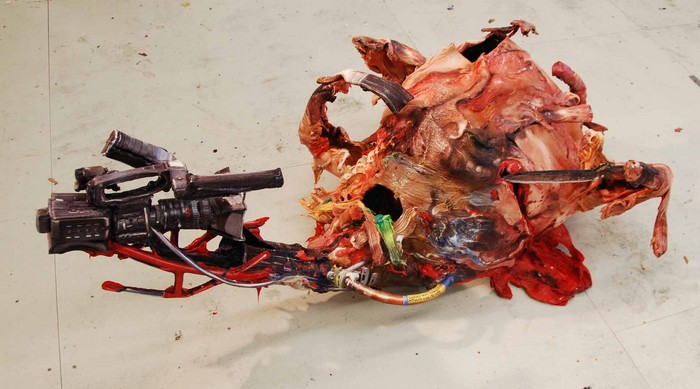 Fabian Marcaccio
Paint-Fuck-Film-Kill-itself Paintant, 2009
Mixed media, 55,9 (H) x 101,6 (B) x 142,2 (L)
FABIAN MARCACCIO
"Analytical Rage-Paintants"

31. Oktober - 23. Dezember 2009 /extended until January 16 2010/

On Friday the 30th of Oktober 2009 from 7-9pm, Galarie Thomas Schulte will be opening with Fabian Marcaccio's new solo exhibition "Analytical Rage-Paintants" for which the artist will be present.

Since the early 1990's Fabian Marcaccio has been questioning and expanding the concept of painting with substantial radicalism. The stretcher bar, canvas, color, and brushstroke have become subject to his work in themselves. In a mixture of painting and mutant his works are labeled paintants .

Marcaccio continues to follow his methods in his newest Environmental Paintnants. Through often extreme interventions with the autonomy of the canvas by cutting up or plastic deformation, the artist radically expands the idea of pictorial representation. Motives are dissected into their single components and layed as if on a chopping block, only to be pieced together again in new, threedimensional forms that play out in complex, fantastical scenarios.

What is represented on his works often functions as a movie-like flow of perpetually fluctuating scenes and images, drawn from all possible media influences in our surroundings. When applied, these elements then appear painted on and estranged with a multitude of painting methods that range from flowing acrylic paints to computer graphics, implementing different materials and formable canvases and large quantities of colored Silicone. The motives are alternately reworked and represented, continuously reproduced and alternated, until they result in an array of interwoven, multilayered pictorial structures.

Fabian Marcaccio, who sees himself as an investigative painter-reporter, reflects healthy aggression on to his work, delving into contemporary aspects of politics, economics and culture, that effect us every day. This includes globalization, trans sexuality, genetic-engineering, and terrorism, as well as the bank-crash in 2008 and the role of media in society. Correspondingly, in his "CNN-Paintant" Marcaccio depicts an exploded TV Journalist lying on the ground serving as a reflection on the infotainment industry's barrage of sensational war reporting, blood and horror that so much has become a constant part of our daily visual diet.

Like in a kind of modern historical painting, by insinuating and manipulating discussions of a current moment or event in history he challenges his viewer to question the reality or truth behind it. Marcaccio's often extensive, voluminous works, emphasize the continuous and gradual development of mankind through depicting a seemingly boundless coexistence of single images, that play out in ever-changing scenes, with every new look, angle and runaround the viewer takes.

Born in Rosario de Santa Fe, Argentina in 1963, the former philosophy student Fabian Marcaccio, has made a name for himself in numerous German exhibitions, including the Kölnischer Kunstverein, the Württembergischer Kunstverein in Stuttgart, and the Museum Moderner Kunst in Frankfurt .With much of his success ranging largely throughout Europe in such shows as the Documenta (2002,) Art Unlimitedl (2006) and the Biennale in Seville (2007), the painter and sculpture has acclaimed much praise around the world. Some of Marcaccio's important international exhibitions involve Biennales in Istanbul and Havana and various shows in the United States, including the P.S.1, in New York where the artist has been living and working since the late 1980's.