Idris Khan
24 Mar - 05 May 2007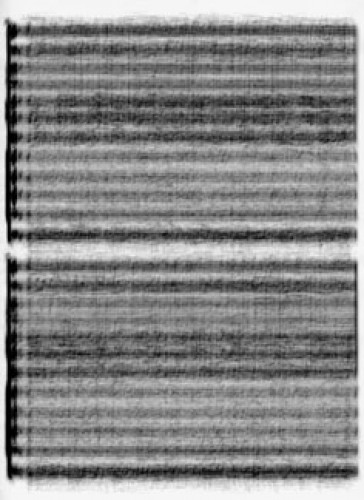 Idris Khan
Mozart... Requiem (Venice 2005) [Edition of 6 + 1 AP], 2006
Digital C type print
255 x 189 cm
Idris Khan

March 24-May 5, 2007

On Friday, March 23, Galerie Thomas Schulte is launching the first extensive solo exhibition in Germany of the British artist Idris Khan with an opening reception from 7 to 9 pm.

Idris Khan works with the digital superimposition of reproductions of paintings, photographs, texts, and musical scores. In so doing, the images used in his works are always intimately linked in terms of content - this linkage can be a matter of logic or chance.

Khan first became known to a broader public by way of his trilogy on the work of Bernd and Hilla Becher. Using three common topics of these influential photographers he superimposed all the photographs of a particular group ( i.e. a certain type of timber house) on top of one another in one image for each topic. At about the same time he proceeded in a similar fashion with the sheet music of all of Chopin's Etudes, combining all the musical lines of this group of works in a single line.

The results are usually large format images of a puzzling energetic tension where the notion of linear time seems suspended. All the same, Khan has already extended his approach to the medium of film in his A Memory...after Bach's Cello Suites. While on the one hand these works are a mix of appropriation and new creation, they are also more like a drawing or a painting than a photograph, in that they clearly betray the intervening hand of the artist, who creates a internal dynamics in his use of highlighting and emphasis. This dynamics seems to inhere in the represented, and seems to bring the essential substance to the forefront, rather than a blurring of the materials.

Idris Khan lives and works in London. He was born in 1978 in Birmingham and completed his studies at London's Royal College of Art. His work has already been shown in exhibitions in London, Paris, New York, and San Francisco and at galleries such as Yvon Lambert, Stewart Fraenkel, and Victoria Miro.