Idris Khan "Lines"
27 Jun - 15 Aug 2009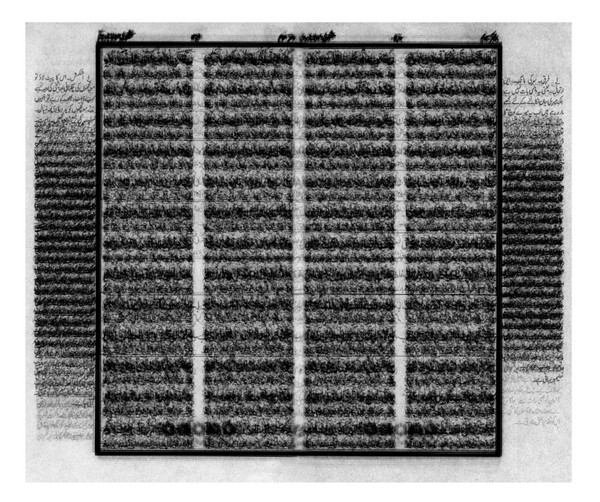 Untitled (III), 2009
Digital Bromide print mounted on aluminum and Rag Board
138,11 x 119,06 x 5 cm (framed)
Ed. 6 + 2 AP
Courtesy: Galerie Thomas Schulte, Berlin


On Friday, June 26, 2009, from 7 to 9 pm Galerie Thomas Schulte will open two parallel exhibitions showing new sculptures and wall drawings by British sculptor Richard Deacon in the main gallery space and new photographic works by Idris Khan in the gallery's Window Space.

Parallel to Richard Deacon, Idris Khan will be showing three new photographic works in the gallery's Window Space. In these pieces, the artist engages with the works of Jalal ad-Din Muhammad Rumi, one of the most important medieval Islamic mystics and Persian poets. Influenced by the work of Agnes Martin, Idris Khan sees a strong link between the grid and lattice images characteristic of Martin's work and the appearance of a manuscript page of Arabic calligraphy. Martin's influential texts show a clear interest in Eastern philosophies, which lead the artist in her painting towards grids and patterns that exude a great meditative sensuality.

Khan's latest photographic works on view at the exhibition Lines suggest that the artist now wants to reverse the process of discovering a formal language as a painterly means of expression for philosophical ideas: using his typical layering technique, the philosophical ideas in Rumi's manuscript materialize into a highly aesthetic abstract pattern of grids and lattices.

Idris Khan (born in 1978 in Birmingham) lives and works in London. Since graduating from the Royal College of Art, he has been experimenting with appropriation art in photography and film. Idris Khan had his first museum show in 2008 at K20 in Düsseldorf.