Juan Uslé / Mar de Aral
02 May - 27 Jun 2015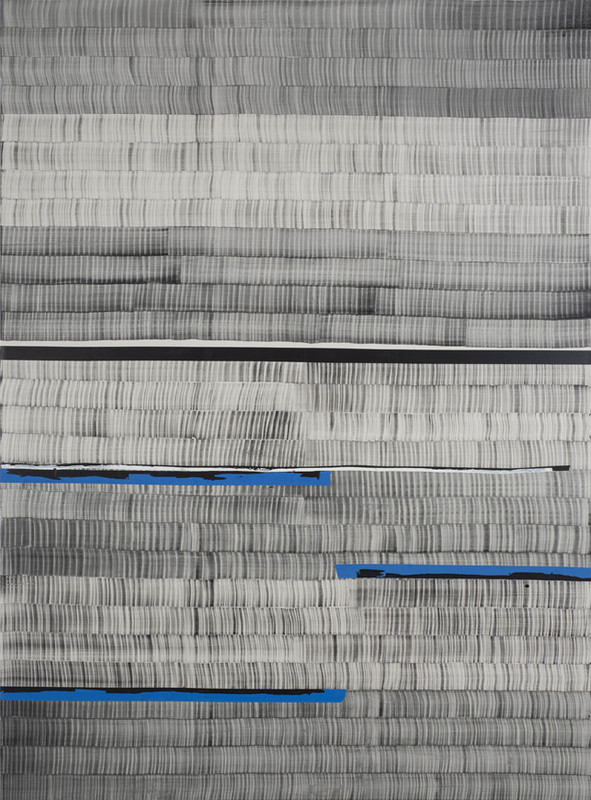 Soñé que revelabas (Aral), 2015
Vinyl dispersion and dry pigment on canvas
275 x 203 cm | 108 1/4 x 80 in
Im Rahmen des Gallery Weekend Berlin eröffnet die Galerie Thomas Schulte am Freitag, den 1. Mai zwischen 18 und 21 Uhr eine Einzelausstellung mit neuen Arbeiten von Juan Uslé. Parallel zeigt im Eckraum der Galerie Richard Deacon ein für das Gebäude entworfenes Fensterbild.
Im Zentrum der Ausstellung "Mar de Aral" stehen neue großformatige Arbeiten von Juan Uslé. Seit Ende der Neunzigerjahre arbeitet der spanische Künstler in loser Folge an der Bildreihe der "Soñé que revelabas" ("Ich träumte, dass du erscheinst"), die innerhalb seines weitgefächerten Oeuvres die größte geschlossene Gruppe darstellt. In ihr kommt im besonderen Maß Uslés poetisch-emotionaler Konzeptualismus zum Tragen. Nicht nur fragt der Künstler nach den Strukturen des Malprozesses innerhalb der Abstraktion, sondern lässt im gleichen Moment das subjektive Erleben und Empfinden mit hineinfließen.
In den vorwiegend schwarz-weißen Bildern, die immer nachts entstehen, arbeitet Uslé mit extrem reduzierten malerischen Mitteln. Farbe und Duktus sind auf ein Minimum beschränkt und die Spannung der Werke ergibt sich aus minimalen Tonwertänderungen und Kontrastierung horizontaler Schichten leicht veränderter Pinselbewegungen. Auf den streng vertikalen Leinwänden sorgen hellleuchtende Farbstreifen für Schlaglichter innerhalb der grau vibrierenden Akkorde. Jedes Bild entsteht aus der permanenten Wiederholung eines Pinselstrichs, der Zeile für Zeile die Oberfläche füllt und sie mit einer eigenen transparenten Flächigkeit versieht. Jeder Pinselstrich ist zugleich mit einer existentiellen Körperlichkeit aufgeladen, da der Künstler den Pinsel im Rhythmus seines Herzschlages auf den Malgrund drückt. "Der Pinselabdruck, der nichts abbildet als sich selbst und damit die große historische Sehnsucht der Malerei nach absoluter mimetischer Referenzlosigkeit, nach Bildern ohne Vorbildern aufruft, ist bei Uslé zu einer Art malerischem Kardiogramm geworden, einem Bild, das sowohl die Geschichte der Malerei spiegelt und kommentiert wie auch in einem ganz elementaren Sinne als Selbstporträt gelesen werden kann", schreibt Stephan Berg im Katalog zu Uslés Ausstellung im Bonner Kunstmuseum 2014.

//

As part of the Gallery Weekend Berlin, Galerie Thomas Schulte presents new works by Juan Uslé paralleled in the Corner Space by a site-specific window painting by Richard Deacon. Both artists open their presentations on Friday, May 1st from 6 to 9 pm.
At the center of Juan Uslé's exhibition "Mar de Aral" are new, large-format works. Since the end of the 1990s, the Spanish artist has been working, in no particular order, on the series "Soñé que revelabas" ("I dreamed that you appeared"), which represents the largest coherent group of works within his diverse oeuvre. In it, Uslé's poetic emotional conceptualism comes to light, as the artist not only inquires into the structure of the painterly process within abstraction, but simultaneously allows the subjective experience and feeling to flow into it.

In predominantly black-and-white paintings, which always are created at night, Uslé works with extremely reduced painterly means. Color and ductus are limited to the slightest and the tension of the works results from minimal changes in tonal value and contrasting horizontal layers, slightly differing in brushstrokes. On always vertical canvases, bright streaks of color create highlights on the grey, vibrating chord. Each painting develops from the permanent repetition of a brushstroke, which from line to line fills the surface and provides a distinct transparent planarity. Every mark of the brush is charged with an existential corporeality, as the artist rhythmically transfers his heartbeat onto the canvas.

"Uslé has taken the brush imprint that represents nothing but itself – an invocation of the great historic longing in painting for the absolute absence of mimetic reference, for pictures that do not imitate anything – and turned it into a sort of painterly cardiogram, a work that reflects and responds to the history of painting and may at once be read as a self-portrait in a very elemental sense," Stephan Berg explains in the catalogue for Uslé's exhibition at the Kunstmuseum Bonn in 2014.